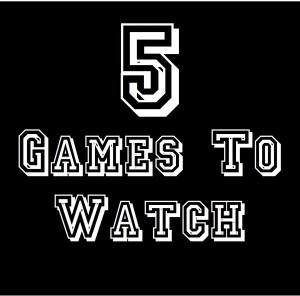 Virginia Tech  at  Georgia Tech – Thursday, 9/26 7:30 pm EST, ESPN
While neither team is really considered the favorite to win the ACC Coastal, this game is pivitol to making sure their team stays in the hunt.  Georgia Tech has gotten off to a good start with wins over Duke and a nice come from behind victory over North Carolina last week.  The Georgia Tech option game is humming right along at the tune of 345 yards per game and the defense has shown improvement from a year ago.  The Yellow Jackets also seem to be more balanced (at least for a Paul Johnson offense) than recent seasons with Vad Lee showing the ability to hit open receivers and make defenses have to respect the pass.  Virginia Tech has been downright dreadful despite their 3-1 record.  They are one of the worst teams offensively in the nation so far and that's despite playing West Carolina, East Carolina, and Marshall.  It's nothing to be ashamed of to struggle offensively against Alabama, but the past two weeks have seen the Hokies eek out a 15-10 victory over East Carolina with just 311 total yards and survive a 29-21 3OT win over Marshall that accumulated under 400 yards despite the 3 extra periods.
#6 LSU  at  #10 Georgia – Saturday, 9/28 3:30 pm EST, CBS
Georgia gets set for their second Top 10 matchup of this early season and third game against a team ranked in the Top 10.  This is a huge game for the Dawgs as a victory puts them right back in the mix for a National Championship hunt and a loss all but eliminates them.  Georgia's Aaron Murray has gotten off to a fantastic start to the season and has the Dawgs 9th in the country passing for 360 yards a game.  LSU, unsuprisngly, is strong on defense this year and will force the toughest test for the Dawgs so far this year defensively.  On the opposite side of the ball, LSU's Zach Mettenberger has given the Tigers the most balanced and explosive offense they've had in Baton Rouge in several years.  Georgia's young defense has struggled getting their feet early in the year surrendering 21+ in all three matchups, including 38 points to Clemson.
#12 Oklahoma  at  #22 Notre Dame – Saturday, 9/28 3:30 pm EST, NBC
This is the type of compelling big name matchup that is becoming increasingly rare in college football.  Two of the great name teams in history going at it in one of the nation's famed stadiums on an early fall afternoon. Notre Dame is 3-1 coming into this one, but it hasn't been pretty.  Their lone loss to Michigan doesn't look so bad on the surface, but that Michigan team has struggled mightly in the past two weeks against Akron and UConn, making the Irish loss look all the worse.  The Irish aren't doing anything exceptionally well, but just good enough to win.  That will have to change if they want a victory over the visiting Oklahoma Sooners, a team that has flown under the radar this season.  It's hard to get much a read on the Sooners as their only "marquee" win was over a West Virginia team that has been just plain awful so far this year.  Rushing wise, the Sooners have been excellent in averaging 271 yards a game and the defense is 5th in the country allowing just 9 points a game.  They'll have their first real test this weekend, though, in South Bend.
#21 Ole Miss  at  #1 Alabama – Saturday, 9/28 6:30 pm EST, ESPN
Ole Miss will try to end a 9 game skid to the Crimson Tide Saturday night in Tuscaloosa.  If they're going to do it, now would be as good a time as any.  Outside of the 49-42 victory over Texas A&M that saw Alabama roll up 568 yards total offense, the Crimson Tide offense has struggled this season.  In particular, the rushing offense is a very un-Tide like 90th in the country averaging just 132 yards a game.  This is seemingly due to an inexperienced offensive line that has yet to gel and open the normal gaping holes for talented running back TJ Yeldon and the stable of Alabama backs.  Ole Miss comes into the game 3-0, but it's hard to know what to make of the Rebels thus far.  At this point, who isn't running up the score and running all over Texas and a opening season victory over Vanderbilt is the only other thing to show.  The Ole Miss offense has turned some heads so far with a very balanced attack (250 passing/240 rushing) led by quarterback Bo Wallace.  Running back Jeff Scott has also been goos leading the team in rushing and carrying an impressive 9.4 yards per carry average into the matchup.  The key to this game will be the Alabama offensive line.  If they're able to get it together and re-establish the normal Crimson Tide run game, than it'll be very hard for the Rebels to compete in this one.
#24 Wisconsin  at  #3 Ohio State – Saturday, 9/28 8:00 pm EST, ABC
A little bit of the luster was taken off of this game when Wisconsin was upset at Arizona State two weekends ago.  A lot of the nation will still be tuned in, however, as it's one of the few games on Ohio State's schedule where a win isn't a foregone conclusion.  Ohio State has breezed through the year so far despite the loss of quarterback Braxton Miller.  Kenny Guiton has stepped in and performed very well, but I'm sure the Buckeyes would prefer to get Miller back, who is expected to play this weekend and is probable to start.   Both of these offenses have put up huge numbers on the season with both relying on the ground game much more as they rank in the Top 6 in the nation in rushing yards per game.  Outside of turnovers or a big special teams play this one is real simple, which defense steps up and gets enough stops to win the game.