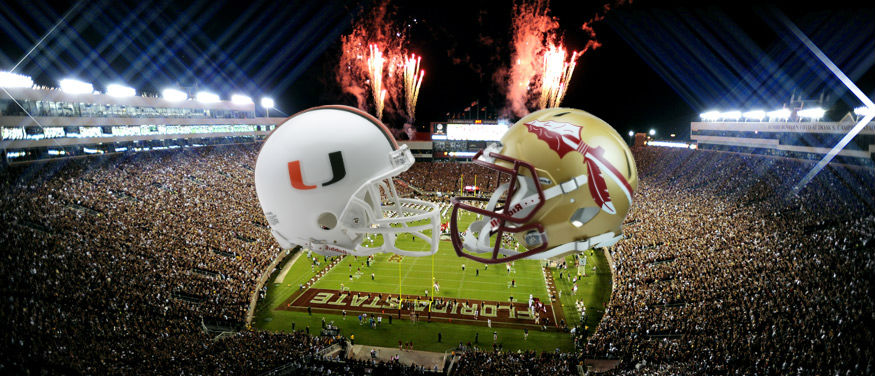 Florida State Rush Offense vs Miami Rush Defense
Florida State has been held to under 150 yards just once this season.   Last week against NC State, the Seminole rushing attack eclipsed the 200 yard mark for the 3rd time this season.  This Seminoles rank 13th in yards per carry at 5.7.   Overall, the FSU run game has been very good this season and ranks as the 13th best rushing attack in the S&P+ advanced statistics.
The Noles are led on the ground by a trio of running backs that each bring a little something different to the table.  Devonta Freeman is the leader on the ground with 561 yards on an impressive 6.4 yards per carry average.  Freeman has good speed and quickness that combines with excellent vision and patience. James Wilder Jr. will be back this week after missing the NC State with a concussion.  Wilder has 226 yards on the year and provides a tough inside runner.  Karlos Williams, who burst on the scene, has sprinters speed combined with great size that gives him big play potential. Williams has 349 yards on the season with a 7.9 yards per carry average.  The offensive line has done a good job opening the holes for the backs and have been very disciplined in their play thus far.  In fact, FSU running backs average 3.9 yards before being hit, 6th best among BCS conference teams.  The job of Chad Abrams and Nick O'Leary should also be commended.  Not really known as a reliable blocker before, O'Leary has shown great improvement on the edge this year and become a very well rounded tight end.
Miami struggled last year against the run and it is easily the most improved portion of the Hurricane team in 2013.  They are allowing 3.69 yards per carry this season, 29th best in the nation.  When taking into consideration the quality of opposition, however, Miami ranks 77th in rushing defense based on S&P+ statistics.  Outside of Georgia Tech, the Hurricanes haven't really faced a quality rushing attack.  Make no mistake, though, this Hurricane front seven has improved and that's led by the interior play of the defensive tackles.  Justin Renfrow is a load in the middle at 6'6″ 325 lbs and they feature a nice four man rotation.  They still are not getting into the backfield very often as the top four DTs have combined for just 4.5 tackles for loss.   They have done a better job of eating blocks and allowing for the linebackers to make plays.
The Hurricanes cannot afford to stack the box in this game and that should allow for running opportunities.  I would expect the Noles to be able to equal or better their 5.7 yard per carry average in this matchup.
Advantage:  FSU

Florida State Pass Offense vs Miami Pass Defense
Despite raw numbers that rank the Hurricanes among the top 20 in pass defense, this is not a very good pass defense from the Hurricanes.  Their numbers are boosted by playing 3 awful teams in Florida Atlantic, Savannah State, and South Florida, and a run first option offense in Georgia Tech.  They gave up a season high 291 yards to Florida, were torched for 395 yards by North Carolina, and surrendered 302 yards to Wake Forest.  When looking at S&P+ advanced stats, they rank as the 77th best passing defense in the nation.  They have an average pass rush led by ends Anthony Chickillo, a very talented player, and Shayon Green who have 3 sacks a piece.  In the secondary, they have struggled particularly at the safety position.  At cornerback, Tracy Howard is a playmaker who has 3 interceptions on the year and was a top rated player coming out of high school.  Outside of him, however, there aren't a whole lot of players that strike fear into opposing quarterbacks.
Until is proven otherwise, Florida State will have an advantage in the air.  As is the case with almost every team that Florida State goes up against, the Seminoles have an advantage when looking at the FSU receivers verses the opponent secondary.  This is the true against Miami, too.  The FSU trio of Rashad Greene, Kenny Shaw, and Kelvin Benjamin should have another good day and tight end Nick O'Leary has really established himself as another excellent target for Jameis Winston.  Look for O'Leary particularly to force some matchup problems with the Miami linebackers and safeties.  Winston has been remarkable this season and has solidified himself as a valid Heisman candidate halfway into his first season.
Overall, the Florida State passing attack has put up fantastic numbers.  The Seminoles rank 2nd in passing efficiency at 193.68 and yards per attempt at 11.3.  They are 11th in yards per game with 341.4.  Football Outsiders S&P+ ranks the Seminole passing attack as the 2nd best in the nation.  Outside of uncharacteristic errors by FSU, Miami will have loads of trouble stopping the FSU passing attack.
Advantage: FSU
Miami Rush Offense vs Florida State Rush Defense
Miami has a very good rushing offense led by outstanding running back Duke Johnson.  They average 214.71 yards on the ground, 24th in the nation and 5.63 yards per carry, 14th best in the nation.  S&P+ rates the Miami rushing attack as the 6th best in the country.   Johnson is the top back for the Hurricanes averaging 117.6 yards per game.  He has fantastic speed and vision and is much more powerful than his 5'9″ 195 lbs frame suggests.  Johnson has an excellent 6.7 yards per carry average and has rushed for 160+ yards in 3 games this season.  The Miami offensive line is experienced and has good size from left to right.  The Miami rushing attack did struggle, however, against the only high quality defense they've faced running for just 50 yards on 28 carries against Florida.
Florida State has done a much better job against the run in their last 3 contests since giving up 200 yards against Boston College.  In those games they have settled more on a 4-2-5 formation with Christian Jones at the defensive end spot and have done much less substituting and experimentation with players in different roles.  However, those have been again spread offenses.  It will be very interesting to see what sort of formation and strategies Jeremy Pruitt elects to use against Miami.  The Hurricanes run a multitude of formations and looks, but have the ability to run more power looks that gave the Noles problems against Boston College.
The Noles give up 3.47 yards per carry, 24th best in the nation and are rated the 32nd best rush defense by S&P+.  The Noles have the ability to stop the run and talent along the defensive line to win the line of scrimmage.  However, I haven't seen the Noles handle a power running attack well enough this season to give them an advantage over a very good Miami run game.
Advantage: Miami

Miami Pass Offense vs Florida State Pass Defense
Florida State has the second best pass defense in the nation according to S&P+.  The raw numbers do a lot to support that notion, too.  Florida State is 1st the nation in passing yards per game giving up just 153.7 yards through the air.  They're 2nd in the nation in yards per pass attempt at only 5.2 yards and 5th in the nation in pass efficiency defense at 97.33.  Those excellent numbers are thanks to a deep and ultra talented secondary that is also very versatile.  That was particularly evident two weeks ago at Clemson as Florida State consistently showed different looks in the defensive backfield mixing up coverages and bringing pressure from the edges.
Miami is a mixed bag in the passing game.  They rank 8th in the nation at 9.6 yards per attempt, but complete only 62.2% of their passes, 47th in the nation.  In S&P+ advanced statistics, the Canes rank as the 8th best passing attack.  The issues come with inconsistency.  Stephen Morris has a very strong arm and can make "all the throws" but he is erratic and makes poor decisions on many occasions.  He has 8 interceptions on the year has been, to put it bluntly, awful on a couple of occasions.  Against Florida early in the year he complete under 50% of his passes for just 162 yards on the day.   The Miami offensive line has done a good job protecting Morris on the season.  Morris has been sacked just 4 times on the year.  That doesn't mean teams haven't been able to get pressure on him, however.  He is quick to throw the ball away or try to force throws when pressured.  The Noles have shown a lot of blitz looks the past several weeks and I think that will continue against Miami.
Florida State should be able to stack the box to bring pressure and try and stop the run.  Morris can be rattled isn't near as good a quarterback when he's not allowed to sit in the pocket and get in a rhythm. I think Miami will have a difficult time trying to beat the Noles through the air.
Advantage: FSU

Score Prediction: FSU 48-21