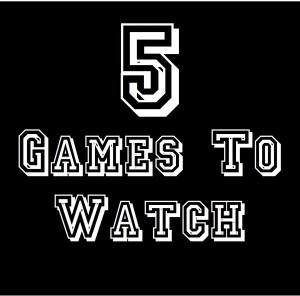 Duke  at  Wake Forest – Saturday, 11/23 12:00 pm EST, ESPN2
Duke is two victories away from a trip to Charlotte and the ACC Championship.  The first hurdle is a trip to Winston Salem to take on Wake Forest.  Wake has a good defense that could challenge the Blue Devil offense, which has had a lot of success this year.  Duke is very balanced on offense and overall, has the 40th best offense in the country according to S&P+.  They'll go up against an underrated Wake Forest defense that ranks 27th in S&P+.  This is a game of strength on strength and weakness on weakness.  The Wake Forest offense is among the worst in FBS. The Demon Deacons should struggle to put up points even though Duke defense is a very average 57th in the nation.  I think Wake will hold Duke below their average output, but it'll be tough for Wake to generate enough offense to pull off an upset.
#12 Texas A&M  at  #22 LSU – Saturday, 11/23  3:30 pm EST, CBS
If the talking heads are to be believed, Texas A&M is playing for a shot at a BCS Bowl and Johnny Manziel is still playing for a Heisman Trophy.  Though this should be a very good game, that's the only real story lines in Baton Rouge on Saturday.  Much like most Texas A&M games, this should be a shootout.  A&M has already had close high scoring games with Alabama, Ole Miss, Auburn, and Miss State while LSU has had a back and forth score-fest with Georgia.  This is a matchup of two very good offenses going against two below average defenses.  It's almost shocking to think of LSU as a below average defense, but they sit 61st in the nation going up against the 3rd best offense in the nation.  On the other side of the ball, though, the Tigers are improved and will take their 9th ranked offense up against a 67th ranked Texas A&M defense.  It might come down to has the ball last.
#8 Missouri at  #24 Ole Miss – Saturday, 11/23  7:45 pm EST,  ESPN
Missouri is in position to win the SEC East in just its second year in the league with two SEC game remaining.  The first will be a tricky trip to Oxford and a game with a dangerous Ole Miss team.  Thankfully for the Tigers they're getting back star quarterback James Franklin just in time. Missouri is the better team on both sides of the ball, but Ole Miss has enough talent and ability to make this a close game and pull the upset.  Outside of being dominated by Alabama, Ole Miss has been in every game with just a 3 point loss to #12 Texas A&M and an 8 point loss to #6 Auburn.
#17 Arizona State  at  #14 UCLA – Saturday, 11/23  7:00 pm EST,  FOX
Arizona State travels to UCLA with the Pac12 South on the line.  The Sun Devils have a one game lead in the division and can clinch with a victory Saturday.  Both teams feature very good offenses that can put up a lot of points with defenses that are good enough but can sometimes be susceptible against other quality offenses.  On both sides of the ball, Arizona State has the advantage.  Of particular interest is true freshman phenom Myles Jack.  Jack is a linebacker who also lines up from time to time at running back.  A rare player that can impact both sides of the ball, he's a throw back to a different era and is fun to watch.
#4 Baylor  at  #10 Oklahoma State – Saturday, 11/123 8:00 pm EST, ABC
Baylor faces their toughest task of the season on Saturday as they travel to Stillwater to take on Oklahoma State.  After running roughshod over an overmatched schedule to begin the season, Baylor has answered their first two tests rather easily against Oklahoma and Texas Tech.  The competition gets a bit better this weekend against a well balanced Cowboy team that features a good defense and solid offense.  Oklahoma State has enough offensive firepower to give them a chance in this game, but they'll have to slow down the number 1 scoring offense in the nation.