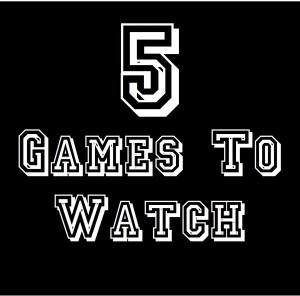 Too much good football to limit it to 5 this week…
Ole Miss  at  Mississippi State – Thursday, 11/28 7:30 pm EST, ESPN
Thanksgiving Day is generally more of an NFL Football day, but there are a couple of intriguing match ups for you to consume after consuming large amounts of food.  I went with Ole Miss and Mississippi State in the Egg Bowl.  Neither team is ranked, both have losing records in the SEC, but Ole Miss has become a big time player in Southeast recruiting and have had some battles with the Noles lately on the recruiting trail.  Ole Miss quarterback Bo Wallace is an exciting player to watch who is on the verge of 3,000 yards passing and also has the most carries on the year for the Rebels.
Miami  at  Pittsburgh – Friday, 11/29  3:30 pm EST, ABC
Miami needs help to try and get to the ACC Championship, but first they have to win on Friday afternoon against old Big East partner, Pitt.  Since their 7-0 Top 10 ranking to start the season, the Canes are 1-3 and have really struggled on defense.  Surprisingly, the loss of Duke Johnson hasn't hurt their offense as bad as initially thought, but they do miss the playmaking running back.  For the Canes to make the Championship, they'll need both Duke and Virginia Tech to go down later on in the weekend.
#13 Oregon at Oregon State – Friday, 11/29 7:00 pm EST, FoxSports1
Oregon has dropped 2 of their last 3 games and were thoroughly dominated last week at Arizona.  Their National Championship hopes obliterated now, they limp into The Civil War with only pride to play for.  Marcus Mariotta has seen his Heisman hopes dashed as well, with a couple of subpar performances.  On the other side, is a Oregon State squad that is suffering some hard times, too, with 4 straight losses.  The Beavers feature a pass heavy offense that averages nearly 50 throws per game and just under 400 yards.  With Oregon's defense struggling and Oregon State's defense below average, this could turn out to be a high scoring shootout.
#24 Duke at  North Carolina – Saturday, 11/30  12:00 pm EST,  ESPN2
Duke can wrap a trip to the ACC Championship with a victory over North Carolina.  Mike Krzyzewski has the Blue Devils primed for another….wait, this is football? The Blue Devils and Tar Heels are playing a game to help decide the championship in football?  It's a surprising story this year and speaks both to mediocrity of the Coastal division this year, but also to the fantastic job that David Cutcliffe has done in Durham.   Duke is no fluke, either.  They are on the verge of a 10 win season due to balance.  Balance on offense where they're 57th in the nation in passing yards and rushing yards.  Balance on both sides of the football where they score a 35th best 34.3 points per game and give up a 36th best 22.8 points per game.  North Carolina has turned their season around after a 1-5 start with 5 straight victories.  They certainly can give the Blue Devils one more difficult test before a trip to Charlotte.
#3 Ohio State  at  Michigan – Saturday, 11/30  12:00 pm EST,  ABC
Ohio State puts there nation's best 23 game winning streak on the line in one of the great rivalries in college football.  Although Michigan losing 4 of their last 6 has taken the luster of the 2013 game, they are playing for a chance to snap a streak and ruin any chance Ohio State has a National Championship appearance.  Ohio State has been rolling after some uninspiring midseason performances, but face a tougher task in the Wolverines on Saturday.  They have a powerful offense led by Braxton Miller and a defense that has been good enough so far this season.  Michigan on the other hand, has been dreadful of offense and struggled to put points on the board lately.
#1 Alabama  at  #4 Auburn – Saturday, 11/30 3:30 pm EST, CBS
It was shocking for me to learn that this will be just the 2nd time in the history of the Iron Bowl that Alabama and Auburn will meet as Top 5 teams.  It's also the first time since the SEC went to two divisions and a championship that Alabama and Auburn meet with the winner taking the Western division crown.  No one is surprised that Alabama comes into the game situated in the Top 5 again, but Auburn has been one of the shocking stories of the year.  Gus Malzhan took over a dreadful Tiger team from 2012 and has them one win away from an SEC Championship game appearance and throwing their name in among National Championship hopefuls.  However, as well as Auburn has played, taking on the Crimson Tide is a whole different challenge.  Auburn's top rushing offense should have some difficulty moving the ball against Alabama if the Tide can make them one dimensional.  Defensively, Auburn hasn't been very strong this year and will have trouble stopping the balanced Alabama attack.
Georgia  at  Georgia Tech – Saturday, 11/30 3:30 pm EST, ABC
Georgia and Georgia Tech meet with little on the line other than bragging rights and conference pride in this game of "Clean Old Fashioned Hate".  The Yellow Jackets have been embarrassed over the past decade plus, losing 11 of the 12 match ups in this state rivalry.  Georgia limps into this game having lost so many players and now must face their rival without star quarterback Aaron Murray.  A healthy Georgia team most likely runs away with this one, but injuries are a part of football and made this a pretty even matchup with a low scoring, ugly matchup a distinct possibility.  In the one sided ACC/SEC battle for supremacy (or respect depending on your affiliation), this game is important in the southeast.
#6 Clemson  at  #10 South Carolina – Saturday, 11/30 7:00 pm EST, ESPN2
In the final instate ACC/SEC battle, Clemson travels to Columbia to take on South Carolina.  Clemson still has a possible BCS Bowl in their future and a chaos theory long shot at the National Championship.  First they have to overcome a South Carolina team that has had their number, winning 4 straight in the series.  Senior quarterback Tajh Boyd has never beaten the Gamecocks and will need go out with a good game for the Tigers to win at South Carolina.  The South Carolina defense will be one the better defenses that Clemson has faced and should keep the Tigers well below their season average.  The South Carolina offense will also be facing a good defense in Clemson, one of the better defenses the Gamecocks will see this year.  Statistically, looking at S&P+, this is a fairly even matchup with Clemson having a slight edge on both sides of the ball.  A victory for the Tigers will go a long way with the perception strength of the ACC.
#21 Texas A&M  at  #5 Missouri – Saturday, 11/30 7:45 pm EST, ESPN
To cap off this wild and awesome 4 days of college football, two former Big12 members face off with SEC championship implications on the line.  Mizzou wins and they win the East and face the winner of Alabama and Auburn.  Lose and South Carolina heads to Atlanta by way of their victory over the Tigers.  Both offenses are explosive and impressive, but Missouri has the much better defense between these two teams.  Most likely it will be the second-to-last time to witness the play of Johnny Manziel on a college field.  No matter your opinions of him, there is no doubting his exciting play on the field.  It will also be the last game for dynamic Missouri quarterback James Franklin, who is a threat with his legs and his arm.  A Missouri win keeps them alive for the slim possibility of a National Championship.