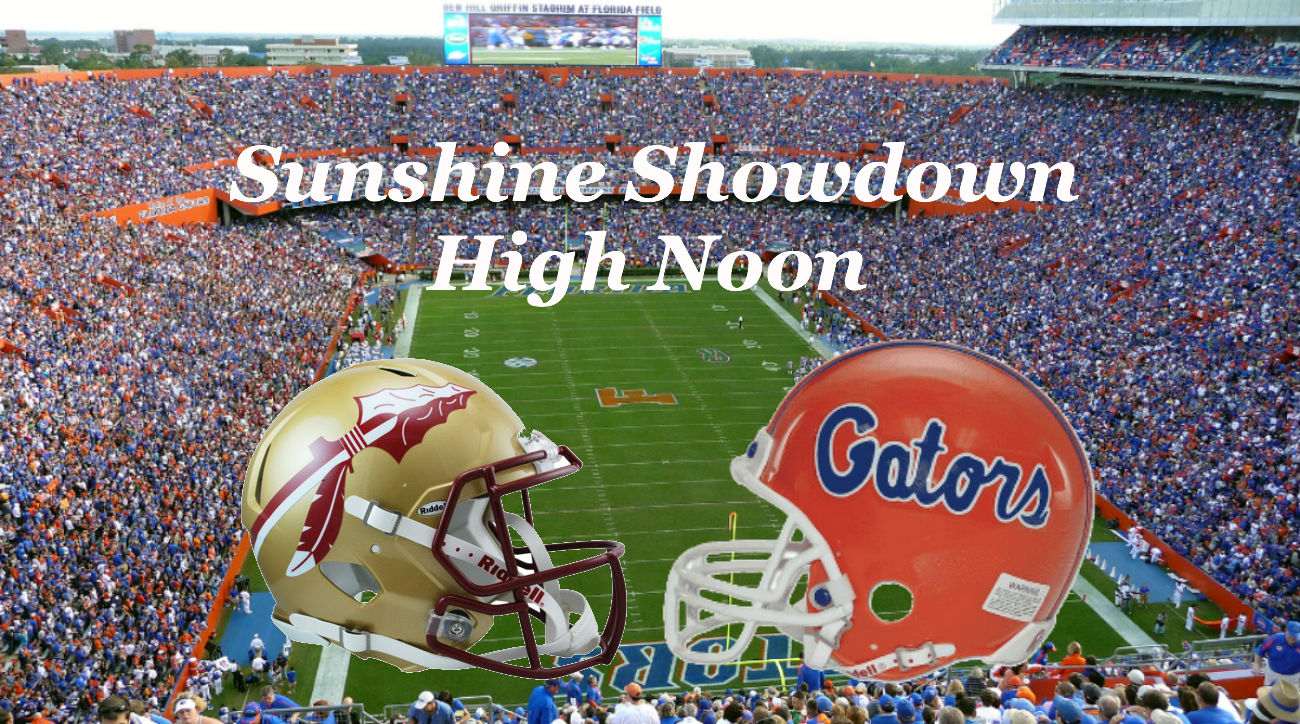 Florida State Rush Offense vs Florida Rush Defense
Florida State has run the ball well this season averaging 211.64 yards per game. That is despite the fact that they haven't leaned on the run game like was predicted before the season started due to the emergence of Jameis Winston at quarterback.  The Seminole rushing attack is averaging 5.83 yards per carry, which is 9th in the nation.  According to S&P+ advanced statistics, the Noles have the 6th best rushing attack in the nation.
The Noles are led on the ground by a trio of running backs that each bring a little something different to the table.  Devonta Freeman is the leader on the ground with 808 yards on a very solid 6.17 yards per carry average.  Freeman has good speed and quickness that combines with excellent vision and patience. James Wilder Jr. is the bruiser of the bunch that loves contact.  Wilder has 454 yards on the year with a 7.21 yards per carry average.  The wildcard is Karlos Williams, a converted defensive back who burst on the scene and has sprinters speed combined with great size that gives him big play potential. Williams has 636 yards on the season with an impressive 8.48 yards per carry average.  The offensive line has done a good job opening the holes for the backs and have been very disciplined in their play thus far.
Florida State will be facing a depleted Florida defense.  In addition to losing Dominique Easley for the season early on, they are without 5 linebackers, including a couple starters.  Despite that, the Gators have still fared pretty well against the run this season, at least against teams that don't run the option.  They are 32nd in the nation giving up 143.64 a game, but 76th in the nation allowing 4.38 yards per carry.  In S&P+ opponent adjusted stats, they rank 32nd in the nation against the run.  They have been susceptible to giving up long runs as they've allowed 49 rushes of 10+ and 5 rushes of 50+, which is 100th in the nation.  This will be the first game without MLB Michael Taylor who moved from WLB after starting MLB Antonio Morrison was injured against Vanderbilt.  Taylor and Morrison were number one and two in total tackles this year for Florida.  Jared Davis, who has started one game at SAM, will move to MLB.
I expect the Seminoles to be able to run the ball against the Gators coming close to matching their year average of 5.83 yards per carry.
Matchup to Watch:  FSU OT Erving and Hart vs Florida DE Dante Fowler, Jr.
Fowler is probably the best defensive lineman Florida has after Easley went down.  He is a special player that is very good against the run.  He's 5th on the team in tackles and leads the team with 10.5 TFL.  Of those, 7 were TFL against the run, an impressive amount.  He also leads the team in forced fumbles with 3.  If either of FSUs tackles can handle Fowler without requiring double teams, the FSU rush offense should be able to open holes.
Advantage:  FSU

Florida State Pass Offense vs Florida Pass Defense
Florida's pass defense has been excellent this season.  Taking a look at the S&P+ advanced stats, Florida has the 2nd best pass defense in the nation.  Looking at raw statistics that lines up, the Gators rank fairly well giving up just 157.7 yards per game, 3rd best in the nation, with a pass defense rating of 99.83,  6th in the nation.  They also do a good job in yards per attempt, giving up 6.0 yards per pass which is 12th in the nation.  They have very good corner play, led by super freshman Vernon Hargreaves III.  Hargreaves is a special player that leads the team 10 pass breakups and 3 interceptions.  Outside of Hargreaves, Florida has another solid corner in Loucheiz Purifoy and decent play from their safeties.  Florida doesn't get a lot of pressure on the quarterback, however, and it forces a lot of pressure on the defensive backs.  Florida is 91st in the nation with just 17 sacks and linebacker Ronald Powell leads the team with 4.
As is the case with almost every team that Florida State goes up against, the Seminoles have an advantage when looking at the FSU receivers verses the opponent secondary.  This is the true against a good Florida secondary, too.  While the Gators haven't given up 300 yards passing this season, good passing teams Missouri and Georgia had some success through the air.  The FSU trio of Rashad Greene, Kenny Shaw, and Kelvin Benjamin should have a good day as long as quarterback Jameis Winston is given time.  Winston, however, has even been remarkable when facing a blitz and does an excellent job of avoiding pressure while keeping his eyes down field and his options open.
Overall, the Florida State passing attack has put up fantastic numbers.  The Seminoles rank 2nd in passing efficiency at 179.85 and 3rd in yards per attempt at 10.3.  They also rank 12th completing 66.9% of passes and 14th throwing for 320.8 yards per game.  Football Outsiders S&P+ ranks the Seminole passing attack as the 2nd best in the nation.
Matchup to Watch: FSU TE Nick O'Leary vs Florida Linebackers
The injuries to Florida's linebacking corp may not only effect their rush defense going up against a dynamic tight end in Nick O'Leary.  O'Leary was just named a finalist for the Mackey Award as the nation's top tight end and he could be matched up against some inexperienced back up linebackers for Florida.
Advantage: FSU
Florida Rush Offense vs Florida State Rush Defense
Unlike last season when the Gators featured an excellent power running game, Florida has struggled to run the ball consistently this season.  They average just 151.91 yards per game on the ground, 83rd in the nation, and just 3.65 yards per carry, 98th in the nation.  S&P+ ranks the Florida rushing attack as 100th best.  The name of the game here as been injuries, to the offensive line, running back, and quarterback.  They have started 7 different combinations on the offensive line and have lost key starters.  In addition, Matt Jones was lost for the season after 5 games and was, arguably, the Gators top running back.  Since Jones went out, Florida has managed 150+ in just two games and been held under 60 yards rushing twice.
Florida State's run defense has been very good this year after a rocky start.  Statistically, they are 12th in the nation giving up 3.13 yards per carry and 18th in the nation giving up 121.64 yards per game.  In S&P+ advanced stats, the Nole rush defense checks in at 10th best.  Last season, the Noles struggled against the power, extra OL looks that Florida featured.  This season, the Gators can't go to those looks as much and Florida State is better equipped defensively to match size on size if they do.  However, FSU would prefer to stay in their 3-3-5/4-2-5 look with Christian Jones lined up at an OLB/DE position and the safeties and Lamarcus Joyner free to bring pressure and help against the run.
Florida might have some early success running the ball against the Noles, but FSU has done an excellent job making adjustments both as the season wears on and on in-game adjustments.  I think FSU holds Florida right around the season average of 3.65 yards per carry.
Matchup to Watch: Florida LG Ian Silberman vs FSU DT Timmy Jernigan
Ian Silberman is making just his 3rd start this season and 6th in his career.  The RS Junior will be going up against one of the top DTs in the nation in Timmy Jernigan.  If Silberman struggles against Jernigan, Jernigan will either have a field day in the Florida backfield or force the Gators to double team him, opening up opportunities for other Seminoles to make plays.
Advantage: FSU

Floirda Pass Offense vs Florida State Pass Defense
It sounds like Florida will be starting Skyler Mornhinweg, though Tyler Murphy is questionable.  Neither quarterback has performed all that well this year, but Murphy has shows more ability to stretch the field this year.  Overall, Florida's passing attack has been poor this year.  The Gators rank 107th in the nation with just 176.0 yards per game passing, 80th in passing efficiency at 124.70 and 83rd in the nation with a 6.8 yards per attempt average.  Florida has just 3 games at 200+ yards passing with just one 300+ yard game.  S&P+ ranks the Florida passing attack as the 87th best in the nation. A patchwork offensive line could have trouble going against a decent Florida State pass rush that likes to bring pressure from everywhere with a multitude of players.  Florida has a couple of nice wide receivers in Solomon Patton and Quinton Dunbar.  However, outside of those two and human swiss army knife Trey Burton, there is little to worry about on the outside for Florida.  Amazingly, outside of those 3 players, only one other player has 100+ yards receiving – Ahmad Fulwood with 104 yards.
The Florida State pass defense has been one of the best in the nation.  They rank 2nd in the nation in passing yards surrendered at 156.5 per game, 2nd in yards per attempt at 5.2, and 1st in passing efficiency defense at 90.65.  The S&P+ ranks Florida State's pass defense as the 4th best in the nation.   Their strength lies in the secondary where they have a cupboard full of big, athletic defensive backs that can play multiple roles and positions.  Ronald Darby's name has been almost nonexistent this year, and as a CB that's a good thing.  Teams are simply avoiding him as his 8 tackles and few pass defenses show.  FSU also boasts Thorpe Award finalist Lamarcus Joyner at cornerback.  Joyner gives teams problems lining up in the slot, with his threat of pressure off the edge in addition to being an excellent cover man.  Terrance Brooks, Jalen Ramsey, PJ Williams, and Nate Andrews round out a secondary that has played excellent all year.
Florida will have all kinds of trouble consistently passing on the Noles.  The Gators best hope will be that they can use the athleticism of one of their WR to get deep for a big play.
Matchup to watch: Florida OTs vs FSU Pass Rushers
Max Garcia is an interior lineman who had to move out to tackle after injuries.  He's a little undersized and may have issues with Mario Edwards Jr. who has really begun to come on in the 2nd half of the season.  On the other side, Trenton Brown is a massive man, but could struggle against the super fast and quick Christian Jones.  Brown is making just 5th game of the season after injuries thrust him into the lineup.
Advantage: FSU

Intangibles and Conclusion
Normally I would say that Florida Field would give a massive edge to the Gators.  However, with Gator faithful unhappy with the Gators losing season, combined with a noon start, the environment may be the best Florida State ever gets in Gainesville.  Florida also has nothing to play for, which could go for or against the Gators.  If they lay it all on the line and play inspired football trying to ruin their rivals season, it could be positive.  If they come out lackluster, and full of self-pity, it could get real ugly.
The bottom line is this:  The Gator defense is good, but it's ranked somewhere between Clemson and Pittsburgh in S&P+ advanced statistics.  On offense, the Gators are ranked between Syracuse and Wake Forest.
Score Prediction: FSU 44-6