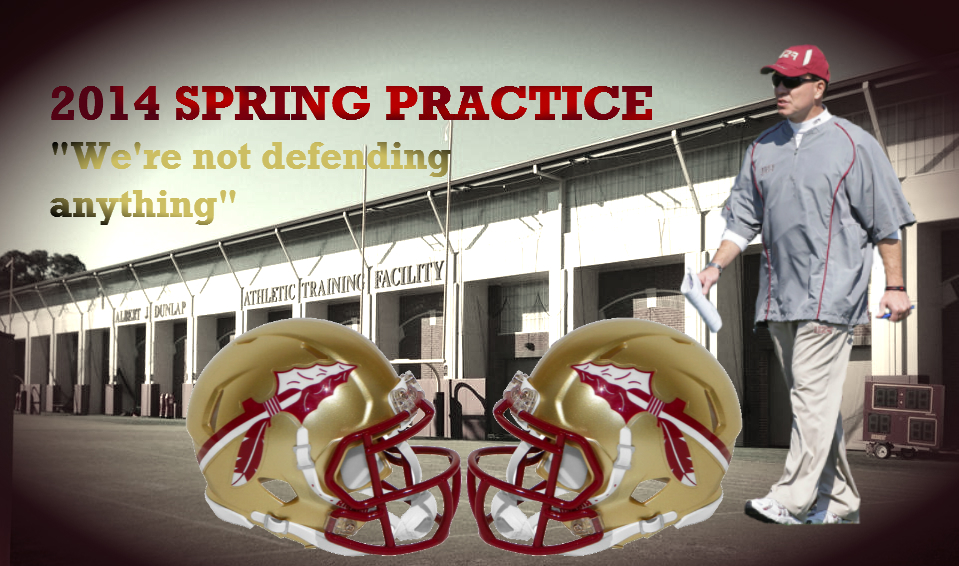 Five Things to Watch For
Who steps up at wide receiver?
Florida State loses two of the their top 3 wide receivers from 2013 in Kelvin Benjamin and Kenny Shaw.  That duo combined for 108 catches (38% of catches) for 1,944 yards (44% of yards) and 21 touchdowns (50% of touchdowns).  Those are some big numbers to replace, but thankfully they have Rashad Greene returning, one of the top wide receivers in college football. Greene had 76 catches for 1,128 yards and 9 touchdowns and is on the cusp of setting career records in all three categories for Florida State.  The top pass catching wide receiver after that trio in 2013?  Christian Green with just 13 catches for 157 yards.  While it should be mentioned that FSU does return another excellent target for quarterback Jameis Winston in the form of tight end Nick O'Leary (33 catches 557 yards and 7 touchdowns), there is little doubt that Jimbo Fisher's offenses needs somebody else to elevate their game in the wide receiver corps.
Traditionally, Fisher has used a deep wide receiver rotation.  Necessity reduced the rotation last year after injuries and suspensions left nothing but inexperienced youth on the outside behind the top 4 guys.  It could be argued that the reduced rotation actually helped the Seminole passing attack as wide receivers were able to get in the rhythm of the game easier and the rapport with Winston was heightened.  Even if that trend continues, the Noles at the very least need two-three guys to step up.  The Seminoles have two initial obvious candidates in Scooter Haggins and Christian Green.  Both guys have been in the program for a while and have shown glimpses of breakout potential.  Haggins has seen that potential derailed by injuries.  First with a broken hand on a fantastic diving catch against Oklahoma in 2011 and then missed all of last year with a knee injury.  He participated in 4th Quarter Drills last month with no limitations and should be good to in the spring.  His return to form will ease the minds of FSU fans heading out of spring.  Green is a player that fans have hoped to break out for the last several years, but just hasn't happened.  He has his last year in Tallahassee to finally live up to his high billing out of high school.  A talented, versatile athlete Green will be penciled in as a starter in spring.
Next up in the line of candidates is a trio of youngsters, Levonte Whitfield, Jesus Wilson, and Isaiah Jones, that got their feet wet last season.  The trio combined for just 10 catches 143 yards and zero touchdowns.  Whitfield had the most game experience last year making an impact mainly as a kick returner.  He is a blur on the field with some of the best speed in college football that could allow him to be on the outside from time to time.  His size (5'7″ 178) screams slot receiver, though.  Fisher also chose to get him the ball out of the backfield with good results last year.  Wilson will most likely be up for a slot position as he is a bit smaller at 5'9″ and quick more than fast, though that's not to say he doesn't have speed.  Jones has the prototypical body at 6'4″ 200 lbs but was rarely heard from last season on the field or in the practice reports.  While he is a bit of a mystery at this point, this spring should tell us a lot more about the role he might play this season.
There is another trio of wide receivers coming in, though, that could make a lot of what comes out of spring irrelevant.  Incoming freshman Ermon Lane (6'3″ 193) the #3 wide receiver out of high school, Travis Rudolph (6'1″ 185) the #6 wide receiver out of high school, and Javon Harrison (6'1″ 187) a playmaking 4* athlete should all have a say in the fall about who is catching passes from Jameis Winston.  Rudolph is arguably the most ready to come in and contribute, but Lane is expected to be a talent that will be hard to keep off the field.
There is certainly plenty of talent to choose from as the main set of wide receivers this season, it will just be a matter of who makes the mental jumps required in Jimbo Fisher's offense to become dependable targets.