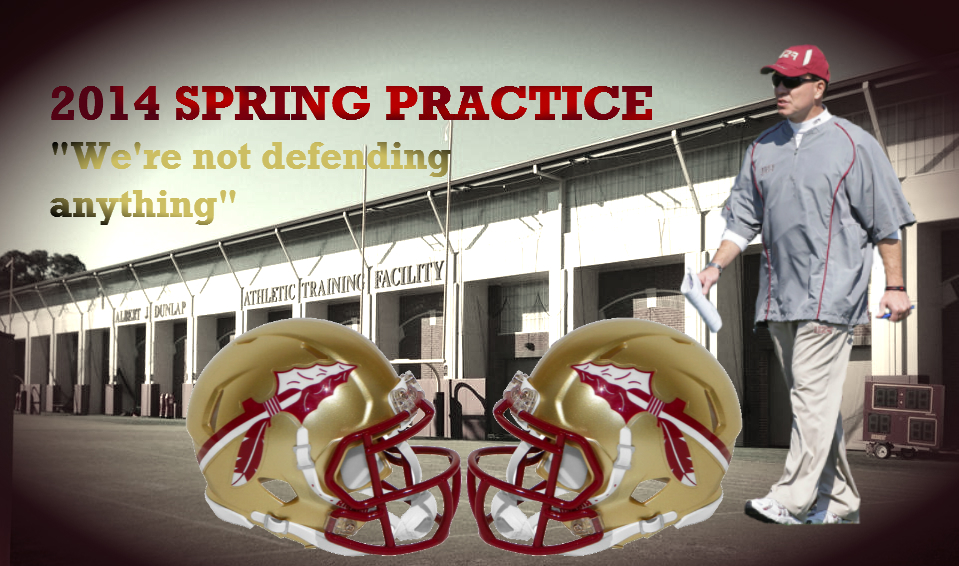 Five Things to Watch For
What young linebackers jump to the front of the pack?
Florida State loses 2 long time contributors in Christian Jones and Telvin Smith heading into 2014.  Although Smith was only a full time starter in 2013, he made a big impact on special teams immediately and then sharing times with Vince Williams over the next two seasons.  He was an undersized guy, but had incredible natural instincts and anticipation and flew to the ball.  Jones was a starter for 3 season, but got flipped around all over the place.  First he went from weak side to strong side after the departure of Nigel Bradham, then spent a brief time in the middle this season before moving outside to a sort of hybrid role at LB/DE/Jack spot.  Both guys are NFL caliber players that will most likely get drafted in the upcoming NFL Draft.  So, who jumps in and fills those spots?  Well, that will partially be determined by which direction the FSU defense takes.
Gone are the days (at least for now) of the traditional 4-3 at Florida State.  Will, Mike, and Sam are quite as simple to define as the were throughout much of the 1990s and 2000s.  Last season, Florida State ran a good bit of nickel looks with 5 defensive backs and depending on how you counted Christian Jones either a 3-3 front six or a 4-2.  If that same look persists this year, then one of your spots will be filled by a big, versatile guy that can do damage with his hand on the ground or drop back in coverage if necessary.  Ukeme Eligwe (6'2″ 240 So) seemed to replace Jones most often at his spot last year with pretty good results.  He finished 14th on the team in tackles last season and is a very aggressive player around the line.  Matthew Thomas (6'3″ 215 RSFr) is built similar to Christian Jones.  If pictures from 4th Quarter Drills are any indication, Thomas has put on some good weight and I wouldn't be surprised if he was closer to 220-225 by the time fall rolls around.  He is an explosive ball player that was redshirted last season.  Thomas is a guy that all Nole eyes should be on this spring to see how he is developing.  The other two options, in my opinion, at the spot Jones is departing come from the defensive end group.  Chris Casher (6'4″ 260 So) and Demarcus Walker (6'3″ 274 So) are both guys that were substituted occasionally for Jones.  Both guys are big strong guys with athletic motors to get after the quarterback.
Terrance Smith (6'4″ 222 Jr) is the only returning starter, but I don't know that he's set in stone to remain at the middle linebacker position he played last season.  He had a very good year and his entrance in the lineup (along with Jones sliding over to take over Dan Hicks spot) really solidified a defense that struggled some toward the beginning of the year.  Smith will have a couple of younger guys give him a run for the starting spot in the middle with E.J. Levenberry (6'3″ 234 So) and Eliqwe being options in the middle.  It would have been interesting to see the role Kain Daub (6'4″ 243 Fr) would have played this spring, but he's fallen victim to the same NCAA Clearinghouse issue that ruined Demarcus Walker's early enrollee participation last season.
The other position certainly up for grabs is spot Telvin Smith leaves open with his graduation.  This could go several different directions.  First, if Terrance Smith is displaced from his middle linebacker spot, then he could easily slide over to Telvin's spot.  Terrance has experience and is an exceptional athlete much like  Telvin was.  However, if Terrance remains in the middle than I would suspect Reggie Northrup (6'1″ 223 Jr) gets first crack at the spot this spring.  Northrup really impressed in limited action as a freshman and quietly finished 8th on the team in tackles last season as a sophomore.  A couple of players that redshirted last season, Ro'Derrick Hoskins (6'2″ 216 Fr) and Tyrell Lyons (6'0″ 210 Fr) could also get a crack this spring at the outside spot.
This fall the Noles will welcome a few excellent linebackers to the crew that could be wildcards for playing time this fall.  In addition to Daub, FSU will add Jacob Pugh (6'4″ 221) and Delvin Purifoy (6'2″ 230).  Pugh is probably the most college ready and might crack some playing time as the year goes on.