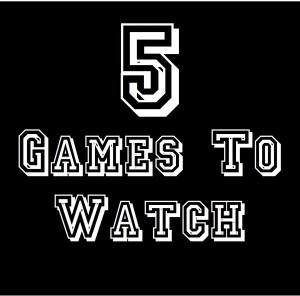 #20 Texas A&M  at  #9 South Carolina – Thursday, 8/28 6:00 pm EST, SEC Network
With apologies to Sam Houston State vs Eastern Washington and Abilene Christian vs Georgia State, this is the opening game of 2014 College Football Season.  The eight and half months of waiting are over and the dark days of no football are over.  On top of that, it's actually an interesting matchup between two Top 25 teams that have questions to answer and holes to fill.  How will Texas A&M fare without Johnny Manziel and other top performers?  South Carolina has to replace one of their all-time leading passers in Conor Shaw and dominating defender Jadeveon Clowney. Neither team has a chance to figure things out with an easier game as this conference game will have lasting season impacts in the SEC right off the bat.
#2 Alabama  vs  West Virginia (Atlanta) – Saturday, 8/30 3:30 pm EST,  ABC
This is a bit of a "name game" that really shouldn't be that close.  West Virginia limped to a 4-8 record last year with pretty poor defense.  I don't expect them to be all that improved and are opening the season against an Alabama team that just keeps on rolling.  Bama is riding a very uncustomary 2 game losing streak dating back to last season, but they still have one of the most talented teams in the nation and will again be in the conversation for the national title.  One intriguing possible story line in this game for Florida State fans is the QB matchup.  If Jacob Coker is named the starter for the Crimson Tide, it will be two former Seminole quarterbacks facing off as Clint Trickett will start for the Mountaineers.
Arkansas  at  #5 Auburn – Saturday, 8/30  4:00 pm EST, SEC Network
Arkansas was pretty pitiful in Bret Bielema's first season in the SEC going 3-9, losing 9 straight, and going winless in the SEC.  Auburn is coming off an unexpected 12-2 record, SEC Championship, and appearance in the National Championship.  This shouldn't be a close game.  The intrigue here is twofold.  First, Auburn really struggled to get it's offense in full gear at the beginning of last year.  I don't expect that to be a similar issue this year as the Tigers are now in year two of Gus Malzahn's offensive system.  The second issue, starting quarterback Nick Marshall suspension for a marijuana citation in July, could be more intriguing.  At this point, no one but Malzahn knows how long Marshall's suspension will be for.  He is not starting, but if he is playing for any considerable amount of time, it should have little impact.  If the suspension is for a majority of the game, though, Auburn will have to rely on an inexperienced backup to run the offense that relies so much on timing and the ability of the quarterback to be a threat.
#16 Clemson at  #12 Georgia – Saturday, 8/30 5:30 pm EST,  ESPN
Another matchup of two teams that have high expectations, but are replacing a lot and have plenty of questions.  The Tigers and Bulldogs opened up the season last year in a thrilling back and forth game but are missing key pieces from those teams.  All-time great quarterbacks from each school are gone as Aaron Murray and Tajh Boyd are now taking snaps in the NFL.  Also gone is dynamic wideout Sammy Watkins.  Both teams, however, return a good nucleus on defenses, both with some question marks in the secondary, though.  While last year was a game dominated by the offenses in a bit of high scoring affair, I think the defenses will have more of a say in the 2014 matchup.
#13 LSU  vs  #14 Wisconsin (Houston) – Saturday, 8/30 9:00 pm EST, ESPN
LSU and Wisconsin are two teams that have really flown under the radar this offseason.  Most of that probably has to do with the fact that both teams are in a bit of a rebuilding period and have lost key pieces to their respective teams from last year.  Both have the talent and experience to still be fringe Top 10 teams, but this could prove to be more of a springboard year for the next couple of seasons.  It's on opposite sides of the ball that most of the replacement is happening, though.  Wisconsin has lost a lot on defense with 4 of the top 6 defensive lineman gone and all 4 of the top linebackers from 2013. On offense they return most of a solid OL, the QB and a 1,000 yard back.  LSU on the other hand loses just about every skill position player, but returns a lot on the OL.  Defensively, the Tigers must replace two very good DTs, but return just about everything else.  LSU seems to come out on top in these big out of conference games, but they're going to need to find some offense from somewhere to do it.
BONUS GAME:
Miami  at  Louisville – Monday, 9/1 8:00 pm EST, ESPN
Louisville enters a new era in the ACC with a Labor Day showcase game against the Canes.  Both teams are in transition, Louisville with a new (old) coach and new guy under center, Miami seemingly stuck in transition the last several years.  The good news for new Cardinal quarterback Will Gardner is he will be surrounded by a lot of experience. Four of five offensive lineman return along with the leading rusher and four of the five top pass catchers on the team. The Cardinal defense is replacing a lot, though, and that should make the Hurricanes feel a tad bit better about starting a true freshman quarterback on Labor Day night on the road.  I expect a fairly large chunk of touches for Miami runningback Duke Johnson to help ease the load off the shoulders of new quarterback Brad Kaaya.  Two pretty good offenses with new quarterbacks going up against two very suspect defenses – depending on quarterback play this could be an exciting high scoring game, or it could be ugly to watch.