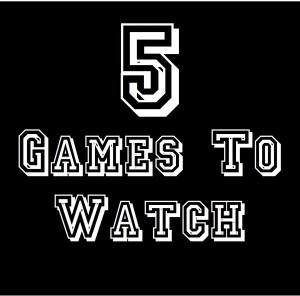 #2 Auburn  at  #3 Mississippi State – Saturday, 10/11  3:30 pm EST,  CBS
Coming off a big victory over LSU, Mississippi State is rewarded with a Top 5 ranking, College Gameday's first ever trip to Starkville and the #2 ranked and defending SEC Champion Auburn Tigers coming to town. Bulldog quarterback Dak Prescott has been very impressive in leading the Mississippi State offense.  The defense will need to step up it's game to stay in the Top 5 for very long, though.  They've given up 29+ points in three games including 34 points to UAB in the second week of the season.  Other than a hiccup in Manhattan, Kansas, the Auburn offense has continued rolling this year and the defense has played much better, too.
#12 Oregon  at  #18 UCLA – Saturday, 10/11  3:30 pm EST,  FOX
What would have been a massive Top 10 game with big national title implications for the Pac12 has turned into somewhat of an afterthought after both teams dropped games to unranked teams this past weekend.  There is a lot of football left to play, though, and with many teams in front of them playing each other, Oregon can still have hopes of making the College Football Playoff.  They can't afford any more missteps though.  UCLA, after looking unimpressive against Virginia and Memphis earlier in the year, finally gave up a game and any national title hopes they had have been dashed.
#9 TCU  at  #5 Baylor – Saturday, 10/11  3:30 pm EST,  ABC
Can Baylor knock off a Top 5 team for the second consecutive week?  TCU has largely leaned on their defense over the past devade, but was able to win in a shoutout against Oklahoma.  Going up against the potent Baylor offense, they might have to lean more heavy on their offense again if they won't their 2nd consecutive upset victory and the chance to knock on the door of the Top 5 themselves
#3 Ole Miss  at  #14 Texas A&M  - Saturday, 10/11  9:00 pm EST,  ESPN
Texas A&M is a bit inflated due to victories over LSU and South Caolina that are perceived to be much greater than they really are. That's not to say the Aggies don't have some talent and are incapable of pulling the upset over #3, can't believe I'm typing that, Ole Miss.  The Ole Miss defense is good and they have some playmakers outside on offense, but this team will go as Bo Wallace goes.  Thankfully for the Rebels, "Bad Bo" hasn't shown up this season.  If and when he does, all bets are off and Ole Miss is vulnerable.
USC  at  #10 Arizona – Saturday, 10/11  10:30 pm EST,  ESPN2
Outside of their victory over Oregon last Thits day, is there a less imoressive resume of any team in the Top 10 than Arizona?  They made the massive jump from unranked to #10 though, largely due to the unprecedented number of Top 25 teams losing last week.  Awaiting them will be the USC Trojans who certainly have the talent to play spoiler after years of the script being flipped for the Trojans and PAC 12 teams
Others to Watch
#13 Georgia  at  #23 Missouri – Saturday, 10/11  12:00 pm EST,   CBS
#11 Oklahoma  vs  Texas – 10/11  12:00 pm EST,  ABC
Louisville  at  Clemson – 10/11  3:30 pm EST,   ESPNU