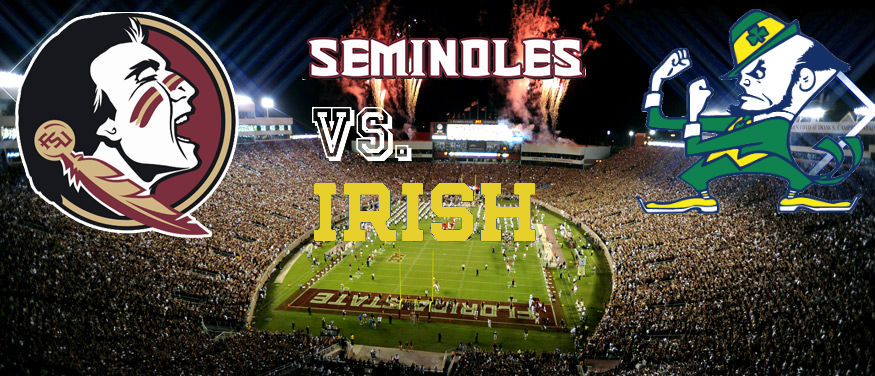 Florida State Rush Offense vs  Notre Dame Rush Defense
The Florida State rush offense has shown some signs of life after struggling against Oklahoma State and Clemson early in the season.  A combination of suspect offensive line play with questionable reads and runs from Karlos Williams led to a 3.42 and 0.48 yards per carry average.  Since the second half of the NC State game, however, things have seemed to click a little better.  In addition to Williams running a little better, the emergence of Mario Pender and Dalvin Cook has given the running game a boost.  Ryan Hoefeld stepping in at center for the injured Austin Barron has seemed to give the offensive line a bit of a lift, too.  In the last 3 games, the Noles have gained at least 165 yards on the ground.  The FSU running game certainly isn't as good as it was last season, but it's trending in the right direction.
Unfortunately, Pender will most likely be out this week with an ankle injury.  Cook, however, is coming off of a 122 yard 23 performance last week against Syracuse and might be the most talented of the bunch.  While Pender may not get an opportunity to play, Williams is returning from an injury that forced him to sit last week.  On the season, FSU is 69th in the nation averaging just 4.26 yards per carry.  Like I mentioned, however, the running game is improving after a fairly disastrous start.
The Notre Dame rush defense has been very good this season giving up just 3.23 yards per carry, good for 21st in the nation.  The Irish dominated Stanford two weeks ago giving up just 47 total rushing yards on a 1.47 yards per carry average.  Notre Dame has a good front seven led by a strong defensive line that's big on the ends.  Linebackers Jaylon Smith and Joe Schmidt lead the team in tackles.  Without a overly strong secondary, the Irish probably can't afford to stack the box and may not even have the need if their front 7 can perform like they have thus far.
Based on what these teams have done thus far, I have to give a slight edge to Notre Dame.  They have been consistently better on their side of the ball than the Noles have on theirs.  This will be a big test for the FSU run game.
Advantage:    Slight Notre Dame
Florida State Pass Offense vs Notre Dame Pass Defense
Outside of the Clemson game when Jameis Winston was suspended, the Florida State passing attack has been excellent again this season.  Winston is averaging 321 yards per game, is completing 70% of his passes, has the 12th best passer efficiency rating, and is also among the Top 15 in yards per attempt.  Florida State can spread it around, too.  Although Rashad Greene is far and away the leader in receptions, particularly early on in the season, fifteen Noles have caught a pass, five guys have at least 10 receptions, and 3 already have 20 plus catches.  Bobo Wilson and Travis Rudolph have really emerged as weapons on the outside and Nick O'Leary is the countries best tight end.
The passing game really goes through Greene, though.  Last week he became the FSU All-Time leader in receptions and he's on track to break just about every Seminole receiving record.  He's currently on pace for 88 catches for 1,366 yards in the regular season alone.  While those numbers will most likely taper off some with the emergence of some other receivers, Greene is the guy that Winston and the Noles will count on in crunch time and make the big plays.
Notre Dame is 69th in the nation giving up 237.8 yards per game through the air and 41st in the nation with a 116.33 defensive pass efficiency.  The Irish are 8th in the nation, though, with 10 interceptions on the year.  They've given up a couple big passing games to Syracuse (294 yards) and North Carolina (326 yards) and are not all that strong in the secondary.  Safety Austin Collinsworth, who had gotten the start last week against North Carolina, will be out after suffering an injury, one of several injuries already this season to the Notre Dame secondary.
I think this is a pretty good sized advantage for the Noles in this game.  Notre Dame doesn't have the secondary to match up all that well with the FSU receivers and the bottom line is that Jameis Winston and the FSU passing attack have just proven time and time again to be difficult to stop.  While the Notre Dame defensive front is good, they don't get after the quarterback great and I think Winson should have time to make plays.
Advantage:  FSU
Notre Dame Rush Offense vs Florida State Rush Defense
Notre Dame is running for 163.83 yards per game, 69th in the nation, and 4.33 yards per carry, 66th in the nation. Outside of a big time performance to open the season against Rice, 281 yards/6.69 YPC, and a 219 yard/5.09 YPC performance last weekend against North Carolina, The Irish running game has been fairly pedestrian.  They split the yards between 4 main guys.  Tarean Folston leads the Irish in carries and yards with 60 and 263 respectively.  Quarterback Everett Golson is next with 209 yards on 58 carries (including sacks).  Greg Bryan and Cam McDaniel round out the ball carries – all of whom are between 43 and 60 carries and 181 and 263 yards.  The Notre Dame offensive line is big and experienced.  Right tackle Christian Lombard (6'5″ 311 lbs) leads the way with 25 career starts and LT Ronnie Stanley (6'5″ 315 lbs) and LG Nick Martin (6'4″ 295 lbs) both are hovering just under 20 starts in their careers.
The Seminoles are 54th in the nation giving up 144.83 yards per game and 40th in the nation giving up 3.55 yards per rush.  The Noles have had trouble staying healthy on the interior of the defensive line this season and that was already a spot with questions.  Eddie Goldman has really become a monster in the middle, but with Nile Lawrence-Stample out for the year and backup Derrick Mitchell missing the last few games, there has been a void in the middle.  Mitchell is expected to return this week much to the delight of FSU fans.  He had been playing very well early this year and gives Florida State a strong starting pair.  On the outside Mario Edwards Jr. is one of the top run stoppers on the outside in college football.  On the other side, Lorenzo Featherston (if he continues to get the start) will need to play much more disciplined against an excellent running quarterback in Golson.  Featherston is an athletic freak, but crashed far too much last week and needs to keep contain.
The FSU run defense just hasn't been as good as the last several years this season, but Notre Dame isn't exactly a dominant running team, either.  Neither of these sides have a decided advantage, but based on the inconsistencies and struggles so far this year, I think Notre Dame has the advantage.
Advantage:  Notre Dame

Notre Dame Pass Offense vs Florida State Pass Defense
The Fighting Irish are 34th in the nation throwing for 280.5 yards per game.  Everett Golson's return this year has really elevated the passing attack as he combines good efficiency (148.69, 29th in the nation), with a nice TD/INT ration of 4/1.  Golson is a true dual threat quarterback that is a good thrower, but has the legs that forces defense to be controlled in their rush.  The top target for Golson is wide receiver William Fuller.  Fuller leads the team in catches (35), yards (504), and touchdowns (7).  Those numbers are nearly double the next top wide receiver. After Fuller though, the ball gets spread around pretty evenly with six players having between 10 and 19 catches.  All six have between 128 and 260 yards and each has at least one touchdown catch, too.
The Florida State pass defense, expected to be a strength this season, hasn't quite lived up to expectations.  There have been numerous factors, including players that haven't been playing a quite 100%, quarterbacks playing over their heads, and some instances of opposing players just making ridiculous catches against good coverage.  There is no doubting the talent in the secondary and I would pick Ronald Darby, PJ Williams, Jalen Ramsey, Tyler Hunter, and Nate Andrews over any other secondary in the nation.  However, something hasn't completely clicked for the pass defense.  Part of that has been questionable coverage from the linebacking corps and part of that is a real lack of pass rush up front allowing quarterbacks too much time.  The Noles are 40th in the nation giving up 213.7 yards per game, 65th in the nation with a pass defense efficiency of 126.83, and 63rd giving up 7.0 yards per attempt.
Although the numbers don't necessarily back it up, I still think this is an FSU advantage.  FSU has the advantage in the WR verses DB department and I think the Noles will have an improved pass rush with Featherston, Jacob Pugh, and the return of Matthew Thomas.  That combined with Derrick Mitchell's return in the middle and the athleticism of Thomas in coverage possibly, as well, and I think the Noles will contain the Irish passing attack enough.
Advantage: FSU

A Jameis Winston led Florida State offense has never scored less than 41 points at home against an FBS opponent.  Notre Dame has a good defense, but I don't think they'll be able to keep the Noles under that number.  With a big, loud, angry crowd on a Seminole Saturday Night, Notre Dame will have a big uphill battle.  I think it'll be a close game into the second half with the Noles pulling a way a bit late in the 3rd quarter and 4th.
Score Prediction: FSU 41-27