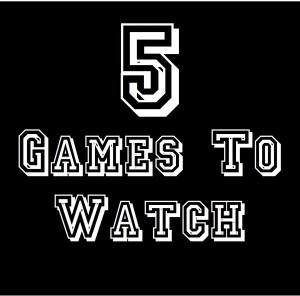 Georgia Teach  at  #6 Clemson – Thursday, 10/10  3:30 pm EST,  ESPN2
This was supposed to be one of the big games in the ACC this season.  A game that if all things went to plan would feature two team right around the Top 10.  A possible preview of the ACC Championship game.  Instead, Georgia Tech has imploded and limps into Clemson, South Carolina with a losing record a 2-3 and scraping the bottom of the barrel in a bad ACC Coastal division.  Clemson, on the other hand, has done their part and finds themselves on the cusp of the Top 5.  That not to say that Clemson has looked like a dominant team this season, but they've won their games over some good competition.  Of course this all adds up to an obvious Georgia Tech win on Saturday, I mean this is the ACC and that would be a very ACC thing to happen.  This has been a sneaky good rivalry with a lot of close games the past decade.  I would expect much of the same this weekend.
#14 Northwestern  at  #21 Michigan – Saturday, 10/10  3:30 pm EST,  BTN
Raise your hand if you had this game being a matchup of Top 25 teams before the season started.  Put your hand down, liar.  Northwestern comes in undefeated with nice victories over Stanford and Duke as well as a dominant performance against Minnesota.  Their getting done via a very good defense and an excellent running game.  On the other side of the football field, Michigan and the Fightin' Harbaughs are brining it on defense allowing just 14 points over their last 4 games and shutting out their last two opponents.  They do have a loss, but at this point even that is impressive.  Utah, now an undefeated Top 10 team, defeated Michigan in the opener by a touchdown.  In a low scoring defensive battle, I think Michigan has a little more offense to get the victory.
#12 Florida  at  Missouri – Saturday, 10/10  7:30 pm EST,  SEC Network
Florida has been a bit of a surprise team thus far.  However, it's a bit of a tale of two teams.  They got huge credit and a big bump in the ratings after a resounding beatdown of #3 Ole Miss, though I firmly believe that was an inflated ranking for Ole Miss who benefited from more breaks that most teams get in a year over Alabama.  The Gators have also struggled to beat East Carolina, Tennessee, and Kentucky, though, so this is hardly a juggernaut.  Missouri might be a tricky place for the Gators to play and will they have a letdown after a big home victory.  The Tigers are 4-1, but their wins are unimpressive and they have a loss to Kentucky.  Florida will win this one in the end, but Mizzou will make it interesting.
#2 TCU  at  Kansas State  - Saturday, 10/10  7:30 pm EST,  FOX
TCU is fresh off an embarrassment of Texas, a game in which they led 30-0 at the end of the first quarter and put it on cruise control after that.  However, just the week before they needed a miracle finish to beat Texas Tech.  Kansas State is always a solid, well coached team, and playing in Manhattan might be interesting for the Horned Frogs. They have an offense that should win them every game, but a defense bad enough that they could sneak up and lose any game if the offense isn't clicking.
#22 California  at  #7 Utah  - Saturday, 10/10  10:00 pm EST,  ESPN
Utah steps on the field for the first time since they went to Eugene, Oregon and blasted the Ducks.  The Utes are a really impressive team that plays all facets of the game well.  This will be an interesting litmus test for the Utes because as dominating as the win was over Oregon, they also have an uninspiring performance against Utah State and this will be their first game with the added pressure that comes with being a top team.  California is undefeated, but has 3 wins by less than a touchdown over the likes of Texas, Washington, and Washington State.
Other Game to Watch:
#9 Oklahoma vs Texas – Saturday 10/10  12:00 pm EST, ABC
#16 Georgia  at  Tennessee – Saturday 10/3  3:30 pm EST,  CBS