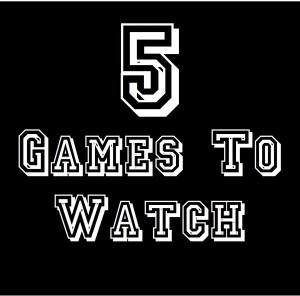 North Carolina  at  #24 Pittsburgh – Saturday, 10/29  7:00 pm EST,  ESPN
Two surprise teams in the ACC this year have a big showdown Thursday night in a game that could largely decide the Coastal division this year. North Carolina should be undefeated this year if not for bad situational football in a game they dominated South Carolina in to open the season. Pitt's season was considered pretty much over when running back James Conner, the reigning ACC offensive player of the year was lost for the season earlier this year. However, here they both are with one loss.
West Virginia  at  #3 TCU – Thursday, 10/29  7:30 pm EST,  FS1
Another intriguing Thursday matchup as #3 TCU grts another test for their defense. TCU has shown themselves to be a team that needs to outscore opponents due to a fairly porous defense. They needed some luck to beat Texas Tech earlier this year and I could see the Mountaineers giving them a similar challenge. West Virginia isn't a very good team, but they can put up points.
#6 Clemson  at  NC State – Saturday, 10/31  3:30 pm EST,  ESPN2
Clemson is the much better team and is playing some great ball right now on both sides of the line of scrimmage. This is one of those dicey games that has cost Clemson a shot at bigger things in the past. As Florida State fans I'm sure can attest to, Carter-Finley Stadium is an underrated place to have to travel to for a big game. Their fans really get up for big opponents and the stands are right on the field. Don't be surprised if the Wolfpack give Clemson a game and make it closer than it should be.
#12 Florida  at  #23 Georgia  - Saturday, 10/31  3:30 pm EST,  CBS
The Largest Outdoor Cocktail Party is flipped a little from where these teams were projected before the season. Florida was pretty much an afterthought, but first year coach Jim McElwain has the Gators playing much better football quickly. Georgia has really stumbled this year, particularly after the loss of Nick Chubb who was arguably one of the top 3 backs on the nation before injury. Now this will go a long way to deciding the SEC East. With both teams missing key pieces to the offense and two good defenses, don't be surprised if this is a fairly ugly defensive battle.
#9 Notre Dame  at  #22 Temple  - Saturday, 10/31  8:00 pm EST,  ABC
I'm sure there aren't many people who had this as a Top 25 showdown before the season. Temple has roared to an undefeated start and Notre Dame only has the close loss to Clemson. College Gameday travels to Philadelphia for this match up and Temple has a chance to show that they're legitimate this season.