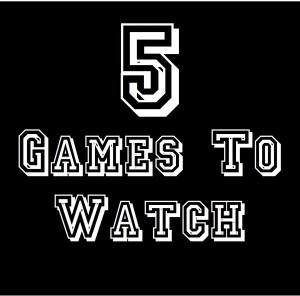 #6 Baylor  at  Kansas State – Thursday, 11/5  7:30 pm EST,  FS1
Baylor's schedule has been their undoing the last two seasons when it comes to the College Football Playoff.  That'll pick up a little bit over the next few weeks with Oklahoma, Oklahoma State, and TCU.  Thursday night, the Bears head to Manhattan, Kansas to take on Kansas State.  Home underdogs typically play well on Thursday nights and this could be a tricky game for Baylor before hitting the meat of their schedule.
Duke  at  North Carolina – Saturday, 11/7  12:00 pm EST,  ESPN2
In all actuality, this should be a Top 25 matchup between two teams battling for the Coastal division.  Unfortunately, North Carolina isn't getting the respect that they deserve as a 7-1 ball club and Duke dropped a game that they had won last weekend against Miami.  This is still a big one for both teams and their desires to get to Charlotte for the ACC Championship.  North Carolina has been on quite a roll and I expect that to continue Saturday.
#5 Notre Dame  at  Pittsburgh – Saturday, 11/7  12:00 pm EST, ABC 
Pitt has been a surprising team this year considering they lost last year's ACC Offensive Player of the year early in the season.  They're only two losses are against undefeated Iowa and the aforementioned North Carolina Tar Heels.  Just go ahead and mark this one down as a one score game as 7 of Pitt's 8 games have been within a score.  Notre Dame has to be happy with their 5th ranking in the initial College Football Playoff ranking and make their second straight trip to Pennsylvania.  Notre Dame should win this game, but
#8 TCU  at  #14 Oklahoma State  – Saturday, 11/7  3:30 pm EST,  FOX
The Big XII has been routinely criticized this season for their top teams horrible schedule strengths.  That is partially justified due to bad out of conference schedules.  However, the conference schedule is really backloaded with all four Top 15 Big XII teams basically playing a round robin the next several weeks against each other.  That starts with this game between two undefeated teams.  TCU has had a stronger offense this season with a pretty poor defense.  Oklahoma State's offense is not as good as TCU, but their defense is stronger.  TCU should have a dropped at least a game earlier this year and I think this is where there undefeated season ends.
#2 LSU  at  #4 Alabama  – Saturday, 11/7  8:00 pm EST,  CBS
Well, most people weren't expecting this to be a Top 4 matchup, but Bama's loss to Ole Miss earlier this season didn't carry much weight with the committee so here we are.  I'm most interested to see Leonard Fournette, arguably the top back in the nation, against this Bama front seven which is possibly the top group in the nation.  This is strength on strength and will go a large part in deciding the game.  Brandon Harris will struggle to beat Bama if they can slow the LSU running game.  On the other side it will be much of the same, LSU will want to slow Derrick Henry and make Jake Coker beat them.  I think Bama wins because Coker has a better chance to play well than Harris.