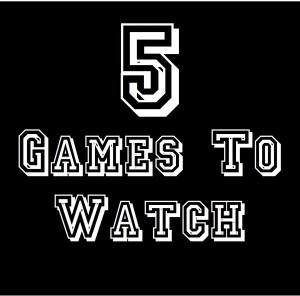 #3 Ohio State  at  Illinois – Saturday, 11/14  12:00 pm EST,  ABC
Another game that Ohio State should win comfortably, but that just hasn't really been the modus operandi for the Buckeye's this year.  They've had difficulties putting away Northern Illinois, Indiana, and Minnesota.  JT Barrett will be back after his one game suspension for DUI, or OUI in Ohio.  Illinois played #5 Iowa close earlier this year, but has been inconsistent all year.  This is a game I expect Ohio State to win, but I also wouldn't be shocked if remains interesting.
#2 Alabama  at  #17 Mississippi State – Saturday, 11/14  3:30 pm EST,  CBS
This is Alabama's last real hurdle between now and the College Football Playoff.  Mississippi State will be jacked up at home and has a duel threat quarterback that could give Bama some trouble.  I'm think Dak Prescott is overrated, but Bama has had troubles the last several years with QBs that can beat you with their legs and have enough ability with their arm.  Bama is playing really well right now and their front seven has been dominant.  I think Bama rolls big.
Oregon  at  #7 Stanford – Saturday, 11/14  7:30 pm EST, FOX
Oregon is playing better after a dreadful start to the season and a healthy Vernon Adams does wonders for the Ducks. While the defense is still nothing to hang your hat on, the Ducks offense has put up 105 points over the last two games.  For a stretch, Stanford was probably playing better than any team in the nation.  A crazy loss in the season opener to Northwestern is the only thing currently in between the Cardinal and a Top 4 ranking in the college football playoff.  They'll still largely control their own destiny with a big matchup against Notre Dame looming.  First, though, they'll need to get by the resurgent Ducks.
Minnesota  at  #5 Iowa  – Saturday, 11/14  8:00 pm EST,  B1G Network
Iowa is on the cusp of a Top 4 ranking in the College Football Playoff.  Yet, I doubt there are many people who pick them in a matchup with the majority of the Top 15.  S&P+ ranks Iowa as the 20th best team in the nation, although, they do have a good defense, ranked 13th.  The Hawkeyes have played a dreadful schedule, and hasn't been all that impressive against it nonetheless.  If they want to sneak into the Top 4, they'll need to keep winning and probably need to look impressive against teams they should easily handle.  Minnesota played Ohio State fairly close last weekend and I won't be at all surprised if they do the same against Iowa or pull off the upset.
#12 Oklahoma  at  #6 Baylor  – Saturday, 11/14  8:00 pm EST,  ABC
This is certainly the game of the week when it comes to playoff implications.  The Big XII schedule is backloaded and the rest of the college football season will feature Baylor, Oklahoma State, TCU, and Oklahoma facing off against each other.  Oklahoma State took care of TCU last week and this week is basically an elimination game for both of these programs.  Baylor hasn't faced anyone all season, but to their credit, they have dominated most every team they play.  That changes now as they face in order Oklahoma, Oklahoma State and TCU in the next three weeks.  Win those games and their likely in the College Football Playoff.  Lose one, and combined with their horrible out of conference schedule, and they're most likely done.