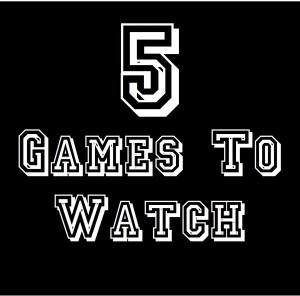 ***Yes, I can count but there are too many good games this week to keep it to five.***
#7  Baylor  at  #19  TCU – Friday, 11/27  7:30 pm EST,  ESPN
Baylor needs a lot of help to try and work their way back into the College Football Playoff, but first things first, they need to win out.  The Bears will be down to their 3rd string quarterback for the rest of the season and they're facing a TCU team that really has hit the skids down the stretch.  In addition to two losses recently, TCU was very unimpressive in beating lowly Kansas by just a score.  Wet your whistle with this one on Friday night with no real expectations of what to expect in this curious game between two teams facing a lot of questions right now.
#8  Ohio State  at  #10  Michigan – Saturday, 11/28  12:00 pm EST,  ABC
Michigan State's victory last week over Ohio State certainly takes a little of the luster off of this game, but this is one of the top rivalries in college football and Ohio State still has a slim outside shot of working their way into the College Football playoff.  There was some unrest in the Buckeye locker room last week and it'll be interesting to see how Urban Meyer's team responds to their first loss in over a year.
#1  Clemson  at  South Carolina – Saturday, 11/28  12:00 pm EST, ESPN
Clemson is just a couple of wins away from getting into the College Football Playoff for a shot at their first national championship in just over 3 decades.  The first thing in their way is their state rival in South Carolina.  Carolina has been pretty bad this year and is coming off of a loss to FCS school The Citadel.  This should be a blowout, but rivalry games have a way of delivering upsets and compelling games when you least expect it.  I don't expect it here.
#2  Alabama  at  Auburn – Saturday, 11/28  3:30 pm EST, CBS
Much like the Clemson/South Carolina matchup, this shouldn't be a good game, but Auburn at least has a pulse unlike the Gamecocks.  The Tigers have been improving some as the season has gone on, but Bama has been playing well and I expect their defense and front seven to keep Auburn at bay.  Meanwhile, the Auburn defense will struggle to stop the Derrick Henry and that'll open up the playaction for Jake Coker.
#6  Notre Dame  at  #9  Stanford  – Saturday, 11/28  7:30 pm EST,  FOX
It's real simple in this matchup, win and you're in there conversation for the college football playoff, lose and you're out.  Stanford already has a small shot with the recent loss to Oregon, but Notre Dame has been slipping recently despite their only loss being at #1 Clemson.  They can gain some ground in the eyes of the voters with a victory over a Top 10 Stanford team that, at one point this season, was playing some of the best football in the nation.
#3  Oklahoma  at  #11  Oklahoma State – Saturday, 11/28  8:00 pm EST,  ABC
After what was frankly an embarrassing loss to Texas in the Red River Shootout, Oklahoma has righted their season with recent victories over the top teams in the Big XII. A win over their state rivalry and they can punch their ticket to the College Football playoff.  A loss and they're out.
Others to Watch
Georgia at Georgia Tech – Saturday, 11/28 12:00 pm EST, ESPN2
North Carolina at NC State – Saturday, 11/28 3:30 pm EST, ABC
Texas A&M at LSU – Saturday, 11/28 7:30 EST, SEC Network