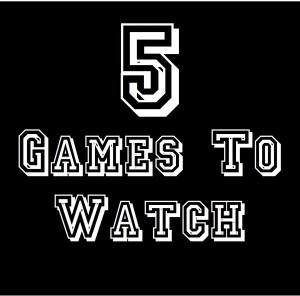 #6 Houston  at  Cincinnati – Thursday, 9/15  7:30 pm EST,  ESPN
I know it's early, but there's not much, at least on paper, standing between Houston and an undefeated season and playoff berth.  After their dominating win over Oklahoma in the opener, Houston won't play a team that will sniff a ranking until they host Louisville on a Thursday night in mid-November.  Going on the road on a Thursday night to face Cincinnati will be about as tricky as it comes for them. Thursday home underdogs have a magical way of sneaking up on teams and Thursday night voodoo is about the only chance Cincinnati has.
#1 Alabama  at  #19 Ole Miss – Saturday, 9/17  3:30 pm EST,  CBS
Game two of a brutal stretch for Ole Miss to open the season.  The Rebels have had Alabama's number the last couple of years and will look to make it the third consecutive victory over the Crimson Tide for the first time in the history of this matchup.  Bama hasn't gotten it's run game going yet and that's the strength of the Ole Miss defense, while Bama's strength on defense in the secondary will go against a potent air attack by the Rebels.  After FSU faced Ole Miss in the opener, it'll be interesting to see how this one plays out.
#12 Michigan State  at  #18 Notre Dame – Saturday, 9/17  7:30 pm EST, NBC
Notre Dame's season got off to a rocky start in Austin, Texas, but they have an opportunity to jump right back in the Top 15 against number 12 Michigan State.  The Spartans had a rare week 2 bye last week and have only faced Furman thus far in an uninspiring 28-13 win.  The Irish bounced back after the opening season loss and handled Nevada without a problem.  Notre Dame settling on quarterback DeShone Kizer should stabilize the offense and gives them a good shot at home.
#3 Ohio State  at  #14 Oklahoma – Saturday, 9/17  7:30 pm EST, FOX
Ohio State coach Urban Meyer gave his former offensive coordinator and current Houston coach Tom Herman a call to discuss Oklahoma's personnel.  The Cougars dominated Oklahoma in the opener and I think Ohio State will do much the same in this matchup as Oklahoma is staring a 1-2 record in the face before a bye that is then followed by games against TCU and Texas.  Bob Stoops may need the upset to avoid his seat warmer being switched on.
USC  at  #7  Stanford  – Saturday, 9/17  8:00 pm EST,  ABC
USC certainly looked overwhelmed against Alabama in the season opener but they can play the roll of early season spoiler against Stanford, just like the Cardinal has done in the past to the Trojans.  Stanford has largely owned this series recently going 6-2 in the last 8 meetings giving USC troubles with their physical brand of football.
Others to Watch
Oregon at Nebraska – Saturday, 9/17 3:30 pm EST, ABC
Texas at California – Saturday, 9/17 10:30 pm EST, ESPN