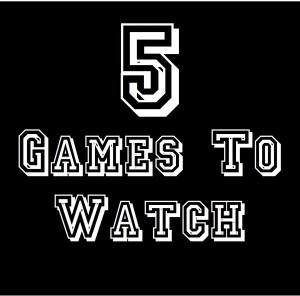 #12 Georgia  at  #23 Ole Miss – Saturday, 9/24  12:00 pm EST,  ESPN
Ole Miss continues their difficult beginning stretch of the season hosting Georgia.  After facing FSU and Alabama in 2 of the first three weeks, Ole Miss is 1-2.  However, in both of those games they've jumped out to big leads in the first half just to see them evaporate in the 2nd half.  Georgia hasn't been all that impressive to open the season, but they are undefeated. They were arguably outplayed in their opener against North Carolina and then squeaked by Nichols State and Missouri.  Ole Miss needs the victory more than Georgia at this point and I think they win this one.
#19 Florida  at  #14 Tennessee – Saturday, 9/24  3:30 pm EST,  CBS
Can Tennessee finally get a victory over Florida?  The Gators have the makings of another tough defense, but the offense continues to sputter and now they'll be without starting quarterback Luke Del Rio.  Tennessee has a nice victory over Virginia Tech sandwiched by two very uninspiring performances against non-Power 5 schools.  Josh Dobbs is not much of a pocket passer and I think the Gators will be focused on making him beating them through the air.  Neither offense is that good and I'm seeing a low scoring game.  I think Tennessee finally pulls out a victory, but in a close game.
Penn State  at  #4 Michigan – Saturday, 9/24  3:30 pm EST, ABC
Honestly, this game isn't all that intriguing to me, but there's not a lot of top flight matchups in week four.  Penn State hasn't been very good this year and Michigan should have little issue dispatching the Nittany Lions. Michigan hasn't really faced a quality opponent thus far, but outside of a slow start against Colorado they've beaten those teams like they're supposed to.
Pittsburgh  at  North Carolina – Saturday, 9/24  7:30 pm EST, ESPNU
North Carolina has an excellent running back in Elijah Hood, someone needs to remind coach Larry Fedora.  Multiple times the last several years, the Tar Heels have lost games they could have or should have won by moving away from the running game inexplicably.  He's averaged over 6 yards per carry over the past two years but only has 20+ carries in three of those seventeen games.  Pitt has a good running back themselves in James Conner, who is a great story this year in his return from cancer.  He's rushed for 100+ in his last two games against Penn State and Oklahoma State.  North Carolina can be a Top 25 team this year, but they need to win games like this.
#7 Stanford  at  UCLA  – Saturday, 9/24  8:00 pm EST,  ABC
Behind golden boy quarterback Josh Rosen, UCLA was supposed to have an explosive offense this year, but that just hasn't happened thus far as the Bruins are averaging just 27.7 points per game, 80th in the nation.  Stanford had a rare week 2 bye and this is just their third game. They've been typical Stanford, playing physical fairly low scoring games while running the ball and playing solid defense.  I think the Cardinal continues to plod along in this one.