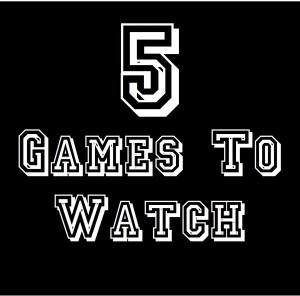 (6 this week because FOOTBALL IS BACK!!)
NC State  vs  South Carolina (Charlotte)  Saturday, September 2nd, 3:00 pm, ESPN
NC State has been getting some hype this year as a dark horse candidate in the ACC, with one pundit even putting the Wolfpack in the playoffs. This is a game that they should win against a South Carolina program that has been reeling the last several years.  NC State has a tremendous defensive line and this will be their first opportunity to turn some heads.
#17 Florida  vs  #11 Michigan (Arlington)  Saturday, September 2nd, 3:30 pm, ABC
Michigan lost more players off of their Orange Bowl losing team last season than I ever recall seeing.  Florida will need to figure out their quarterback situation sooner than later and it looks like as of now, multiple players will get the opportunity in the opener. In addition, Florida will be without seven players, including stud wide receiver Antonio Callaway. Florida has the longest streak of season opening victories in the nation, winning every game since 1989, that will be challenged. Also of note, this will be the first non-conference opponent they'll take on outside of the state of Florida in the regular season since 1991.
BYU  vs  #13 LSU (Houston), Saturday, September 2nd, 9:30 pm, ESPN
The devastating flooding in Houston will most likely have this game moved or postponed, but the Ed Orgeron led LSU Tigers may open up with an interesting out of conference matchup against BYU.  The Cougars are a fringe Top 25 preseason team and they can make big waves with an out of conference victory over a top SEC squad.
Texas A&M  at  UCLA, Sunday, September 3rd, 7:30 pm, FOX
Though neither team is preseason ranked, there is intrigue surrounding both teams.  UCLA is led by a top quarterback in Josh Rosen, but UCLA still needs to prove they belong on the national stage as a team.  On the other side of the field, Kevin Sumlin's seat is still on the warm side as three consecutive 8-5 seasons have made his inaugural 11-2 run a distant memory. Both programs need some momentum to start the year.
#21 Virginia Tech  vs  #22 West Virginia (Landover), Sunday, September 3rd, 7:30 pm, ABC
A bit of old time Big East rivalry is in store for a Sunday evening matchup.  A top 25 matchup pits two teams largely flying under the radar with inexperienced quarterbacks against each other.  A familiar name will be under center for the Mountaineers as ex-Florida Gator quarterback Will Grier takes the reigns to Dana Holgorsen's pass heavy offense.
Georgia Tech  vs  #25 Tennessee (Atlanta), Monday, September 4th, 8:00 pm, ESPN
A longstanding rivalry is renewed in the second Chick-Fil-A kickoff classic at the Mercedes Benz Stadium in Atlanta.  Tech and Tennessee met annually when the Yellow Jackets were members of the SEC and continued that rivalry from the time of their departure in 1964 through 1987.  Now 30 years has passed and the teams in neighboring states face off once again.  Tech rebounded in 2016 after a disastrous 2015 season, but will need to find some answers on offense to continue to positive trend.  Tennessee has righted the ship some after 4 straight losing seasons to begin the decade, but high hopes the last couple of years have resulted in 4 loss seasons and the folks in Knoxville are itching to be among the SEC elite again.  The Volunteers hold a 24-17-2 edge all time in the series.