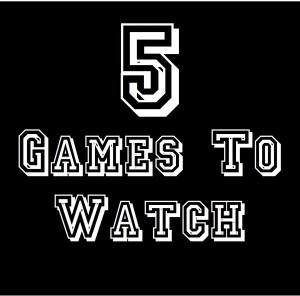 Tennessee  at  #1 Alabama – Saturday, 10/26 3:30 pm EST,  CBS
Well, it's not exactly the "Third Saturday in October" but the annual renewal of this rivalry is close enough.  Tennessee has surprised a couple of teams recently in a near upset of Georgia and win over South Carolina.  They also have been destroyed by Oregon, lost by two touchdowns at Florida, and squeaked by a South Alabama.  They have shown some improvement under first year coach Butch Jones, but they're still a very average to below average football team on both sides of the ball, ranking below 70 in both total offense and total defense.  Advanced opponent adjusted statistics is a little kinder to them on the defensive side, ranking them 29th, but their's no sugar coating the offense.  They face an Alabama team that seems to be hitting it's stride both offensively and defensively.  After some uncharacteristic defensive struggles early on this year, the Tide has been dominant in their last several games.  The Tide ranks near the top in most defensive categories and their offense is averaging an 8th in the nation best 7.11 yards per play.  Alabama has won 6 straight in this series, five of those contests not even close.  The last 3 games have been decided by exactly 31 points.  Don't be surprised if they make it a 4th.
#10 Texas Tech  at  #15 Oklahoma – Saturday, 10/26  3:30 pm EST, FOX
The Big 12 features a couple of surprise undefeated teams this year in Baylor and Texas Tech, neither of which have really faced a test.  That changes this Saturday for the Red Raiders.  Under first year coach Kliff Klingsbury, Texas Tech has returned to fast paced, pass happy offense that Klingsbury ran under Mike Leach. They are only trail BYU and California when it comes to plays per game and are 6th in the nation with 548.1 yards per game.  While they don't have the explosive yards per play average like other highly ranked offenses, they make up for it in shear volume of plays and possessions.  Oklahoma should present a challenge to the Texas Tech passing attack.  The Sooners rank 1st in the nation giving up only 149.7 yards per game and just 5.3 yards per attempt.  Those raw numbers are a little misleading due to the teams that Oklahoma has faced, but the Sooners still rank a solid 28th when looking at S&P+ adjusted stats.  While the Texas Tech pass offense and Oklahoma pass defense will be the battle to watch on one side of the ball, it will be the ground game that will be key on the other side.  Oklahoma has a good rushing attack this season ranking 17th in the nation with 227 yards per game, 30th in S&P+.  Texas Tech, has nice numbers in raw statistics, but ranks just 70th when adjusted for opponents.  Oklahoma showed in their loss against Texas a couple weeks ago that they must establish a run game for their offense to produce this season.
#21 South Carolina  at  #5 Missouri – Saturday, 10/26 7:00 pm EST,  ESPN2
Missouri can basically clinch the SEC East with a win on Saturday.  No, you didn't just misread that last sentence.  Missouri has recovered from a difficult beginning in the SEC last season to be one of only two undefeated teams in the conference this season.  The Tigers are where they are this season due to an explosive offense and a stingy defense.  Eighth in the nation in scoring at 44.3 points per game, Missouri has a balanced attack with very good players at running back in Henry Josey and Russell Hansbrough and at wide receiver in L'Damian Washington and Dorial Green-Beckham.  Both teams will come into the game featuring back up quarterbacks.  Missouri has turned to Maty Mauck after James Franklin was lost for the season.  South Carolina will mostly play without injured starter Conner Shaw.  In his place will be Dylan Thompson.  The Gamecocks also have a very balanced offense, but haven't been able to put the points on the board as well, averaging 32.6 points per game.  The Gamecock defense, despite featuring all-world end Jadeveon Clowney, has been only average giving up 25 points or more in 4 out of 7 games this year.
#12 UCLA  at  #3 Oregon – Saturday, 10/26 7:00 pm EST, ESPN
Oregon enters it's toughest two game stretch of the season this weekend when they host UCLA.  The Ducks offense has been virtually unstoppable this season totaling 643.1 yards per game on a gaudy 8.23 yard per play average.  Oregon averages 300+ yards per game both passing and rushing.  They are led by their Heisman candidate quarterback Marcus Mariota who has been outstanding both through the air and carrying the football.  The Oregon defense, despite being on the field a lot due to the fast paced offense they run, is giving up only 4.46 yards per play which is 8th best in the nation.  UCLA is coming off their first loss of the season at the hands of the Stanford Cardinal.  The Bruins have been a very solid, if unspectacular team this year that runs and throws the ball well on offense and defends the pass and run well too.  They will need to be more than just solid, however, if they want a chance in Eugene against the Ducks.   The rich will get richer this weekend, too, as DeAnthony Thomas returns for Oregon after missing the last 4 games to injury.
Penn State  at  #4 Ohio State – Saturday, 10/19 8:00 pm EST, ABC
After a 3rd consecutive uninspiring performance against a Big Ten team last week, Ohio State welcomes in one of the last teams on their schedule that should have a legitimate shot at upsetting the Buckeyes.  Ohio State has been very good on offense this year, particularly in the run game where they average 279.57 yards per game.  The Buckeyes are 7th in the nation in scoring with a 45.0 per game average.   Defensively they have a top 10 rush defense but they are susceptible to the pass.  That will make for an interesting matchup against a Penn State offense that sorely lacks in the ground game, but has been very good throwing the football behind freshman quarterback Christian Hackenberg.  If those trends continue, Ohio State may been in for another close, high scoring battle that comes down to the 4th quarter.