#70 – Josue Matias
Offensive Line – 6'6″ 331 lbs – Senior
Josue Matias is another guy that you just think, wow, he's already a senior.  Matias is a grizzled veteran at this point, though, with 29 consecutive starts going all the way back to his freshman season in the Champs Sports Bowl against Notre Dame.  In 2013, he was named to the Coaches All-ACC 2nd Team and the Media All-ACC 3rd Team.   Matias is a massive man that was originally thought to have been brought in at tackle, but has made a home for himself at the left guard position.  Excellent in pass blocking and a very good run blocker, he and the rest of the Seminole offensive line played a large part in setting numerous ACC and National offensive records last season while rewriting the FSU record book.  Matias will most definitely have a future in the NFL as he's already rated among the top offensive guards in the nation.
From the history books….
#70 – Alex Barron
Offensive Tackle – 6'6″ 308 lbs – 2000-2004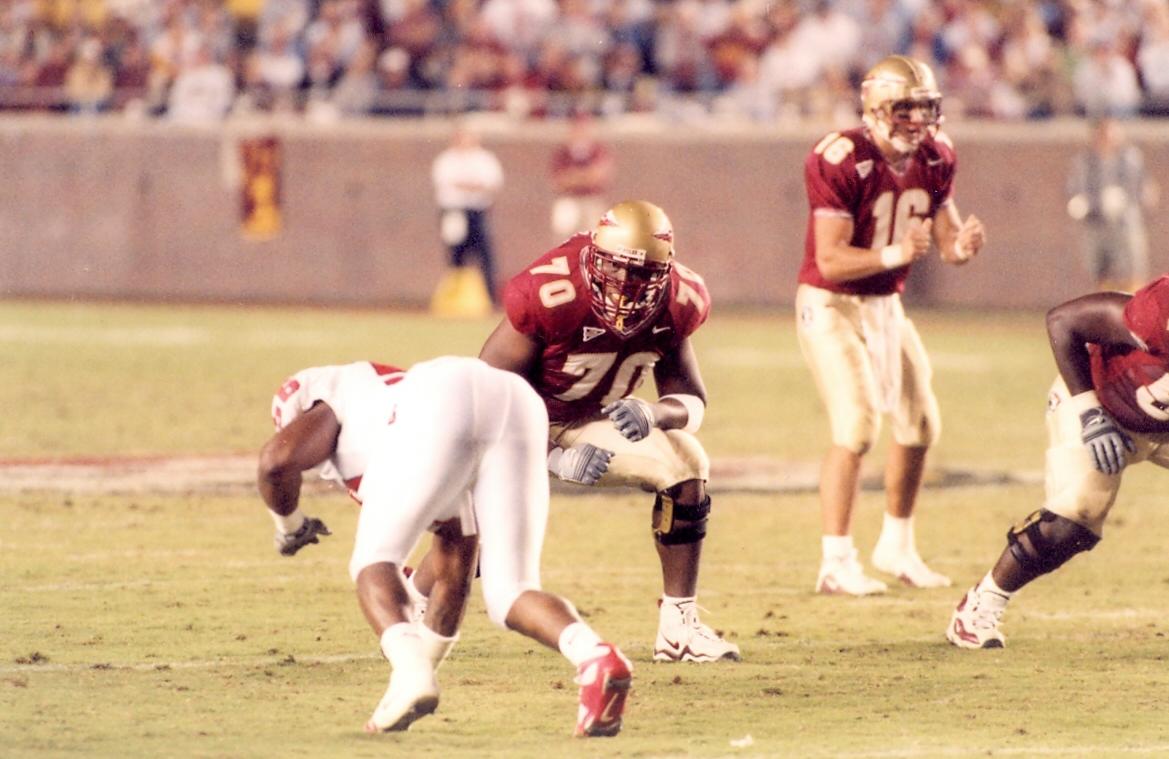 Alex Barron was a 3 year letterman for the Noles that had two standout years in 2003 and 2004. In both of those seasons, he was named a Consensus All-American, the only 2-Time Consensus All-American offensive lineman in FSU history. In 2004 he was also one of 3 finalists for the Outland Trophy recognizing the top OL in the country. In the 2005 NFL Draft, Barron was selected in the 1st round with the 19th overall selection by the St. Louis Rams. He spent 5 years with the Rams starting 74 games. He then spent a year in Dallas. Since then he has been an offseason/practice squad member only with New Orleans, Seattle, and now with the Oakland Raiders.
#70 In History
Bob Thomas (56)
Joe Wallis (57)
Jim Worthington (58)
Rob Morrow (59)
Tom Slicker (60, 61, 62)
Max Andrews (61)
Larry Strobel (63)
Del Williams (64, 65, 66)
Roger Minor (69)
Bill Henson (69, 70, 71)
James Malkiewicz (72)
Vic Rivas (73, 74, 75, 76)
Greg Futch (77, 78, 79, 80)
Pat Woolfork (81)
Roger Agne (82, 83, 84, 85)
Todd Stroud (82)
Tony Yeomans (86, 87, 88, 89)
Corey James (91)
John Donaldson (92, 93)
Mark Jackson (93)
Tra Thomas (94, 95, 96, 97)
Corey Whitaker (98, 99)
Alex Barron (00, 01, 02, 03, 04)
Antwane Greenlee (08, 09, 10)
Josue Matias (11, 12)