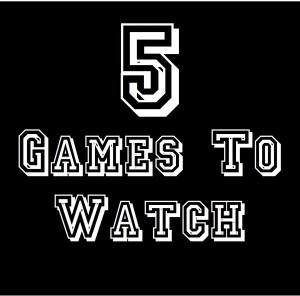 North Carolina  vs  South Carolina (Charlotte) – Thursday, 9/3  6:00 pm EST,  ESPN
The Carolinas kick off the major college football season with a Thursday night showdown.  This game won't have any impact nationally, but will start the process of bragging rights for the ACC vs SEC.  Neither team should be that great this year, but it rings in the season and gives us a taste of the sport we love.
#7 Auburn  vs  Louisville (Atlanta) – Saturday, 9/5  3:30 pm EST,  CBS
The first look at Auburn with new defensive coordinator Will Muschamp. Auburn is getting a lot of love for a team that finished 8-5 this year, mostly due to that hire. They'll get their first chance to prove it against a Louisville team that lost a lot of fire power from the 2014 team.  Another opportunity for the ACC and SEC to earn some points.
#16 Arizona State  vs  Texas A&M (Houston) – Saturday, 9/5  7:00 pm EST,  ESPN
Arizona State has been getting some love during the preseason and is even a dark horse candidate to make the college football playoffs according to some prognosticators.  They'll get their first test in what will basically be an away game versus Texas A&M.
Texas  at  #11 Notre Dame – Saturday, 9/5  7:30 pm EST,  NBC
This is a helmet game with two storied programs facing off in one of the cathedrals of college football.  Notre Dame had a great thing going for a while last season before crumbling down the stretch.  This season they'll be looking to build off of last year and sustain throughout the year.  Charlie Strong enters his second year at Texas and hopes to make progress rebuilding the Longhorns.
#3 Alabama  vs  #18 Wisconsin (Dallas)  - Saturday, 9/5  8:00 pm EST,  ABC
Alabama makes another appearance in a kickoff classic game traveling again to Dallas.  This season the Crimson Tide will take on Wisconsin with more questions than they recently have had.  They return only 3 starters on offense and word out of camp is they are struggling to find a quarterback to replace Blake Sims.  Luckily, they return Derrick Henry in the backfield and will have a stout defense led by 7 returning starters.
#1 Ohio State  at  Virginia Tech  - Monday, 9/7  8:00 pm EST,  ESPN
The defending National Champions lost one game last season to a very mediocre Virginia Tech team in Columbus.  This year they'll get their revenge opportunity early on during a tough trip to Lane Stadium in Blacksburg.  The Buckeyes will be without star Joey Bosa and three others while looking to avoid a loss that would provide a large early shakeup in the college football world.