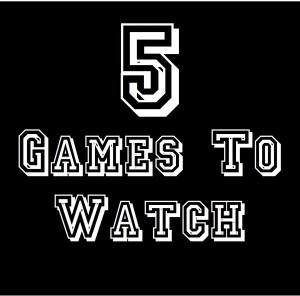 #11 Notre Dame  at  Virginia – Saturday, 9/12  3:30 pm EST,  ABC
Notre Dame dominated Texas and their inept offense this past Saturday while Virginia fell to UCLA.  I don't expect Notre Dame to have too much trouble with the Cavaliers this weekend as Virginia doesn't boast a formidable offense, but they do play pretty good defense in Charlottesville.
#17 Oklahoma  at  #23 Tennessee – Saturday, 9/12  6:00 pm EST,  ESPN
This is an intriguing game for several reasons to me.  Tennessee has to show the nation something to earn their Top 25 ranking at this point.  While they have recruited better lately, that hasn't translated to wins on the field and they are 1-27 in their last 28 games against ranked opponents.  Here's their shot to show the hype is worth it.  On the other side, Oklahoma has been faltering a bit the last couple of years and a victory on the road in Knoxville will certainly bolster their confidence heading into the Big XII schedule.
#5 Oregon  at  #6 Michigan State – Saturday, 9/12  8:00 pm EST,  ABC
Without a doubt, the game of the week.  Oregon wasn't impressive giving up 40+ points to an FCS Eastern Washington.  This is one of only a couple tests all season for the Ducks and Michigan State has just a single ranked team ahead of them after this weekend.  The winner should get near the end of the season in contention for a playoff spot.  The loser might have a tough task getting back in the thick of things without any marquee wins.
#15 LSU  at  Mississippi State  - Saturday, 9/12  9:15 pm EST,  ESPN
LSU both need to get off to a good start in the SEC West if they want to compete for a division title this season.  This will be LSU's season opener as last weeks game was cancelled due to lightning.  Mississippi State was far from dominant against Southern Miss in their opener, winning by 18 in a game that was bit closer than the score indicated.  The Bulldogs have a bit of an advantage in this one with a game under their belt and getting the Tigers at home.
#22 Boise State  at  BYU  - Saturday, 9/12  10:10 pm EST,  ESPN2
BYU had what was certainly the most amazing ending in week 1 with a Hail Mary from their backup quarterback to beat Nebraska.  With Taysom Hill out for the foreseeable future, it's up to Tanner Magnum to lead the Couger offense against Boise State.  While Boise has certainly taken a step back from their glory run of a few years ago, the Broncos are still a solid and well coached team.  This will be about as close to a signature win that Boise can get this year, so they'll need to take advantage.