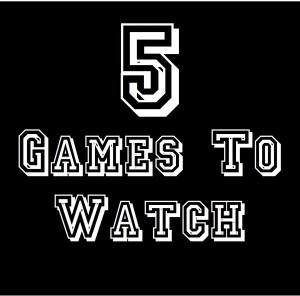 West Virginia  at  #2 Baylor – Saturday, 10/17  12:00 pm EST,  FOX
Baylor's offense has been rolling to the tune of 63+ points over the last 4 games as the Bears have dominated every team they've faced thus far.  They still have a very suspect defense and West Virginia has a pretty good offense.  Baylor should have enough fire power to win this game, but it could be the closest Baylor game yet and the Mountaineers have a shot.
#9 Alabama  at  #10 Texas A&M – Saturday, 10/17  3:30 pm EST,  CBS
Alabama already has a loss on the season, but that hasn't kept them from finding themselves back in the Top 10 already.  Outside of last year's embarrassment in Tuscaloosa, A&M has played the Crimson Tide well since joining the SEC.  I think this will be another good game.  Bama has struggled stopping a good spread offense the last couple of years.  On defense, the Aggies have two very good defensive ends that could wreck havoc on Jake Coker without the need to blitz.  Coker has had the propensity to throw interceptions when pressured.  I think Bama pulls out a close game.
#4 Michigan State  at  #14 Michigan – Saturday, 10/17  3:30 pm EST,  ESPN
Based on the body of work so far this season, I think these teams are ranked in the wrong spots.  After an opening season loss to Utah, a loss that looks pretty good now, Michigan has dominated on the defensive side of the ball shutting out three straight opponents and giving up just 14 points over the last 5 games.  Michigan State has a close win over Oregon, but that loss has lost all it's luster as Oregon has proven to be awful this season.  Michigan State has won two straight and 6 of the last 7, but I think that changes this year as Michigan, at home, continues their defensive dominance and wins.
#11 Florida  at  #5 LSU  - Saturday, 10/17  7:00 pm EST,  ESPN
The loss of Will Grier, suspended by the NCAA for testing positive for banned substances, really makes this difficult for Florida.  They have an excellent defense that can keep them in any game, but they have to find some offense from somewhere.  After looking poor to start the season, Grier had the Gator offense looking much better the last several weeks.  His absence forces Treon Harris back into the starters role and he has struggled mightily throwing the ball in his college career.  On the other side, LSU goes as Leonard Fournette goes and if the Gators are able to slow him down, the Tigers don't have much at the QB position either.  The Florida defense keeps this one close, but I think LSU wins it.
Arizona State  at  #7 Utah  - Saturday, 10/17  10:00 pm EST,  ESPN
Utah survived a tough test from California last week with the spotlight on them.  This week, they'll go up against an Arizona State team with enough talent to give them a game.  The Sun Devils were rated highly to start the season, but crept out to a tough start with two losses in their first four games.  They've bounced back with two nice wins.  Utah is a complete team that plays good defense and has a balanced offense.  I think the Utes win.
Other Game to Watch:
#18 UCLA at #16 Stanford – Thursday 10/15  10:30 pm EST, ESPN
Boston College  at  #6 Clemson – Saturday 10/17  7:00 pm EST,  ESPNU
USC at #13 Notre Dame – Saturday 10/17 7:30 pm EST, NBC