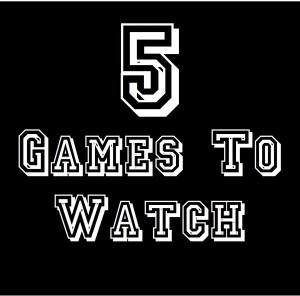 #7 Stanford  at  #10 Washington – Friday, 9/30  9:00 pm EST,  ESPN
Stanford has been workmanlike in their opening three victories this year, though they needed some late game theatrics to beat UCLA in the Rose Bowl last Saturday.  Washington has the highest hopes for their football program in years and is back in the top 10 this year for the first time in years.  Chris Peterson certainly has the Huskies moving in the right direction, but they have played nobody at this point and needed overtime to beat Arizona this past week.  Stanford has the experience in these big games and while Washington is trending up, I don't think they're quite ready for primetime yet.
#14 Miami  at  Georgia Tech  – Saturday, 10/1  12:00 pm EST,  ESPN2
New head coach Mark Richt has Miami playing well and believing right now, however, they haven't faced a decent opponent yet this year.  The difficulty will increase a little bit this week when Miami travels to Atlanta to face Georgia Tech.  Tech had played fairly well this year before getting suffocated by Clemson's defense last Thursday.  After really struggling with the Yellow Jackets after first joining the ACC, Miami has 6 of the last 7.  If Miami is going to get over the hump from mediocre and middling team to good or great, these are the types of games they can't let get away.  I think Brad Kaaya and the Cane's offense will be too much overall and Miami gets the victory in a fairly high scoring affair.
#11 Tennessee  at  #25 Georgia – Saturday, 10/1  3:30 pm EST,  CBS
Tennessee has been very unimpressive for stretches this year, but they found their stride in the 2nd half against Florida this past week crafting quite the comeback victory.  After struggling against Appalachian State and Ohio, the big Gator lead looked insurmountable but the defense, particularly the interior defensive line, turned it on and suffocated the Gators.  Georgia, likewise, has been unimpressive.  They won the opener against UNC though they were largely outplayed, then squeaked out victories against Nicholls and Missouri before being thrashed by Ole Miss.  Georgia looks lost right now on offense and this may be a great time for Tennessee to take control of the SEC East.
#8 Wisconsin  at  #4 Michigan – Saturday, 10/1  3:30 pm EST, ABC
The second of three separate Top 10 matchups this week. Wisconsin looked good in their dismantling of Michigan State on Saturday and, though their opening victory over LSU doesn't look as good now, they have been tested and are deserving of their high ranking.  Michigan hasn't faced the schedule the Badgers have so far, but they've been pretty impressive in disposing of those teams like a good team should.  That said, they did show some cracks against Colorado and was in a close game until the Buffs quarterback was hurt.  This is a toss up in my mind, but I'll give the Wolverines the home edge.
#3 Louisville  at  #5 Clemson – Saturday, 10/1  8:00 pm EST, ABC
One of the games of the year and it's in the ACC and it doesn't involve Florida State.  That speaks volumes to how the conference has elevated it's game over the past several years. Louisville has simply been mind blowing this year offensively and quarterback Lamar Jackson is deservedly a Heisman frontrunner early on in this young season.  The Cardinals will have their biggest road test of the year traveling to Death Valley and facing a Clemson team that may have found their offensive groove a little bit in Atlanta last week.  The Tigers expectedly explosive offense has been rather mundane this year and preseason Heisman hopeful Deshaun Watson hasn't looked like the same dynamic player from last season.  Louisville is for real and they'll give Clemson everything the Tigers can handle, but I think Clemson pulls it out in the end. Florida State fans better hope that's the case, because any slim shot that the Noles have of winning the ACC and someone working back into the playoff picture needs a Louisville loss in conference and this is by far the best shot.