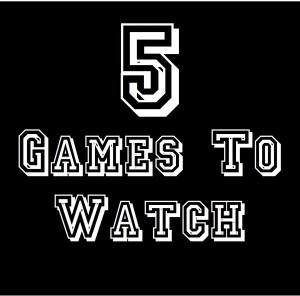 #20 Oklahoma  at  Texas (Dallas) – Saturday, 10/8  10:00 pm EST,  FS1
This game isn't going to have much impact nationally and has certainly lost some of the luster that it was looking to have after Texas' upset of Notre Dame early this season, but it's still the Red River Shootout (I don't care that the PC crowd has forced a name change).  The Texas State Fair is in full swing and that means these cross border rivals matchup.  In recent years this game has seen some blowouts and upsets and has been very hard to predict.  That does keep in intriguing and this year is no different.
#25 Virginia Tech  at  #17 North Carolina  – Saturday, 10/8  3:30 pm EST,  ABC
This is a big game in the race for the ACC Coastal division.  Virginia Tech has a disappointing loss to Tennessee where they out gained the Vols, but turned the ball over 5 times.  Likewise, North Carolina has a disappointing loss to an SEC East team, Georgia, where they had a double digit lead in the second half, but some questionable calls and coaching decisions gave the Dawgs the game.  Carolina has a really dynamic offense and should win this in bit of a high scoring game due to their equally porous defense.
#9 Tennessee  at  #8 Texas A&M – Saturday, 10/8  3:30 pm EST,  CBS
It hasn't been pretty all the time, but Tennessee finds itself undefeated and in the Top 10 into October.  Texas A&M had big questions on defense coming into the season, but it has been surprisingly good and a big reason the Aggies have all the way to #8 in the nation.  I think the Tennessee offense will struggle, as they haven't been real strong this year, and Texas A&M will get the win.
#1 Alabama  at  #16 Arkansas – Saturday, 10/8  7:00 pm EST, ESPN
Alabama hasn't gone undefeated in the regular season since 2009 and this is the type of game that has tripped them up in recent years – a good SEC team on the road that's hyped up for the Tide.  Against good offenses, Arkansas has struggled this year and this has been a good Alabama offense this year that has the added plus of a running quarterback this season.  I think Arkansas will keep it interesting, but Alabama pulls away in the second half.
#5 Washington  at  Oregon – Saturday, 10/8  7:30 pm EST, FOX
Raise your hand if you had the Washington Huskies in the Top 5 in October?  Put your hands down Husky fans.  A strong defense and a solid offense has Washington reaching heights they haven't in decades.  Former Boise State coach Chris Peterson is working wonders in the great northwest and these two teams have switched spots this year, for as surprisingly good as Washington has been, Oregon has been equally average.  While the offense is still strong, the defense is downright dreadful, ranking 100th in the S&P+ and is giving up 36.2 points per game, 109th.  Autzen Stadium is a tough place to play and the Ducks will relish the opportunity to play spoiler this season, but Washington is the better team and they'll come away victorious.