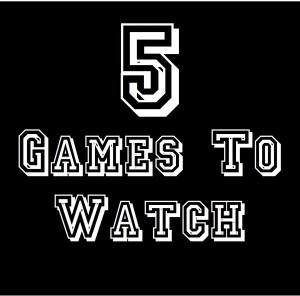 (6 this week because FOOTBALL IS BACK!!)
Ole Miss  vs  Texas Tech (Houston)  Saturday, September 1st, 12:00 pm, ESPN
Kick off your Saturday viewing schedule with a little middling SEC team vs middling Big12 team.  Ole Miss decided that Matt Luke was the guy for them after a year as the interim head coach in 2017.  They certainly don't have the same talent that they did in their heyday from a few years ago, but there is enough talent to beat a struggling Texas Tech program.  Texas Tech puts up a lot of points under Kliff Klingsbury, but the wins aren't following due to terrible defense.  This is the type of victory that he needs to keep the Red Raider faithful on his side.
#9 Auburn  vs  #6 Washington (Atlanta)  Saturday, September 1st, 3:30 pm, ABC
Arguably the best and most intriguing matchup of the weekend.  Washington has been the best team in the Pac12 the last couple years, but when they go out of conference against quality foes, they've been met with the reality that they're not quite among the nation's elite.  Auburn will give them another opportunity to prove themselves.  However, a virtual home game for the Tigers will be a tough challenge as Gus Malzahn seems to have found a quarterback in Jarrett Stidham and boasts one of the top defenses in the country led by a strong defensive line.
Tennessee  vs  #17 West Virginia (Charlotte), Saturday, September 1st, 3:30 pm, CBS
New Tennessee coach Jeremy Pruitt didn't get any favors with the schedule that has him open up against West Virginia.  He inherits a program in need of a rebuild and his defensive coaching chops will get quite the challenge going up against Dana Holgorson's high flying offense.  West Virginia quarterback Will Grier has turned his career around after leaving Florida had is one of the top quarterbacks in the country.  He's broken Volunteer hears as the Florida quarterback, now he gets a shot as a Mountaineer.
#14 Michigan  at  #12 Notre Dame, Saturday, September 1st, 7:30 pm, NBC
A definite "helmet game" that pits two of the most storied programs in college football history against one another.  After a three year hiatus following an almost yearly matchup since the late 1970s, this rivalry commences again with both teams hoping to get back into the national title conversation.  Brian Kelly had a bounce back season last year with the Irish following a disappointing 2016, while Jim Harbaugh hasn't quite hit the highs that Michigan fans anticipated with his celebrated arrival as head coach.  Neither coach is necessarily on the hot seat, but a good season would go a long way to keeping it that way and a victory over their rival in the season opener is a good step.
#1 Alabama  vs  Louisville (Orlando), Saturday, September 1st, 8:00 pm, ABC
There are some interesting storylines here, but none have much to do with the ultimate outcome of the game.  Alabama should trounce Louisville and Vegas certainly seems to think so with a 25.5 point spread in the game.  However, answers to two questions can begin being answered Saturday night.  First, who in the heck is going to start at quarterback for the Crimson Tide?  In a very public controversy this offseason the debate has raged for months.  Tua Tagovailoa is certainly the favorite for the job and most pundits would be shocked if he's not the starter, but Nick Saban has kept this close to the vest and it's hard to argue with the success Alabama has experienced with Jalen Hurts.  Secondly, how will Louisville move on post Lamar Jackson?  With a player of Jackson's caliber, Louisville arguably underachieved the last couple of years.  Now, Bobby Petrino will have to use his offensive genius to keep Louisville among the upper echelon of the ACC.
#25 LSU  vs  #8 Miami (Arlington), Sunday, September 2nd, 7:30 pm, ABC
Miami enjoyed a return to the national conversation last season, even if their season ended on a sour note with a three game losing streak. Even with the success they had last year, much of it was with a razor's edge margin as Miami needed either heroics or a touch of luck to beat Florida State, Georgia Tech, and North Carolina.  They get to prove whether or not this is a program on the rise or a team that used some smoke and mirrors and turnover chain luck last season.  The Hurricane defense should be among the nation's best, but Malik Rosier needs to show improvement for the Canes to prove they belong among the nation's elite.  LSU certainly isn't the LSU of 5 years ago, but they should provide a good test for Miami.