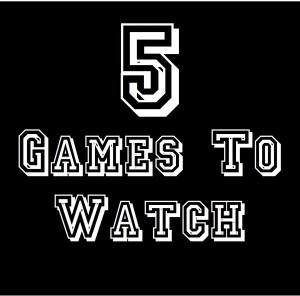 BYU  at  #6 Wisconsin  Saturday, September 15th, 3:30 pm, ABC
An interesting matchup of names doesn't necessarily make for a quality game.  I expect Wisconsin to cruise in this game, but in a weekend not exactly jam packed with big time contests, a unique matchup makes for some intrigue.  While BYU will be a step up in competition from the games the Badgers have had in the first two weeks
#12 LSU  at  #7 Auburn  Saturday, September 15th, 3:30 pm, CBS
In this year's version of the SEC West Battle of the Tigers, both teams are coming off of big wins in week one followed by blowout victories over mismatched opponents in week two.  Auburn has the more balanced team with a quality offense and defense.  LSU's defense should make this a game, but I don't know that LSU has enough offense to pull the upset.
#1 Alabama  at  Ole Miss, Saturday, September 15th, 7:00 pm, ESPN
After disposing of Louisville in the opening week, Alabama dominated an overmatched Arkansas State team last week.  Bama has looked every bit as dominant as prior years this season and the addition of a high quality quarterback has lifted their offense to another level.  Ole Miss has been putting up the points, but giving up 38 first half points to Southern Illinois doesn't bode well for their chances against the Crimson Tide offense.
#4 Ohio State  at  #15 TCU (Arlington), Saturday, September 15th, 8:00 pm, ABC
This will be the last game without Urban Meyer on the sideline for Ohio State and the best chance for the Buckeyes to lose without him. The nation roots for the Horned Frogs this weekend.  Neither team has played a quality opponent yet and neither team has had a competitive game.  We'll find out more about both teams this weekend and I expect Ohio State to come out on top.
#22 USC  at  Texas, Saturday, September 15th, 8:00 pm, FOX
Not exactly the same matchup as the iconic 2005 Rose Bowl, but still a "helmet" game where it's nice to see both historic teams on the field together. Texas has looked underwhelming this year with a loss against Maryland and a very unimpressive close victory over Tulsa.  USC is coming off of a loss last week in a defensive battle against Stanford.  Both teams are in need of victory to right the season.