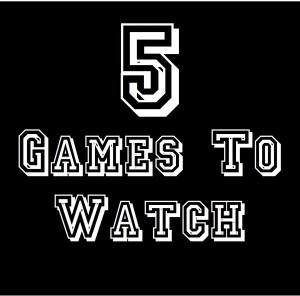 It's a very weak slate of games this weekend!
Wake Forest  at  Syracuse – Saturday, 11/2 12:30 pm EST, ACC Regional
No national implications, no ACC implications.  Not really much interest at all.  Why include it then?  It's Florida State's next two opponents, so why not check out what we have coming up. Both of these teams are…not very good.  Wake ranks 81st in S&P+ while Syracuse ranks 88th. Sandwiched in between them are teams like Northern Illinois, NC State, Minnesota, and Nevada. Syracuse does have a pretty nice rushing offense, though, ranking 16th in the nation in S&P+. The Orange ran for over 300 yards against Clemson earlier this season.   Wake has actually been decent on the defensive side of the ball.  I'll be honest, though, there's not much to gleam from this game.
Florida  vs  Georgia (Jacksonville) – Saturday, 11/2 3:30 pm EST,  CBS
The World's Largest Outdoor Cocktail Party renews it's storied rivalry.  It lacks quite a bit of luster this go 'round, though.  You could probably form a pretty nice team from the two teams injury lists.  Both squads have been decimated by injuries this season and come limping in on 2-game losing streaks for the first time in many decades.  It's a very hard game to peg right now.  A healthy Georgia offense versus a healthy Florida defense would have been a fantastic matchup, but Georgia is really struggling with the losses at wide receiver and running back. Todd Gurley should be back for the Dawgs and that should breathe some life into the Georgia offense, but Florida's defense even with the losses is still a very good bunch.  On the other side of the ball is the ugly matchup.  Georgia's defense has not been very good this year and they'll be going against a historically bad Florida offense.  It may be a race to 17 points in this one.
#21 Michigan  at  #22 Michigan St – Saturday, 11/2  3:30 pm EST, ABC
This may be one of the more ugly top 25 matchups.  Both teams only have one loss, but both teams also combine for only one win over a ranked team – 25th Notre Dame.  The two Michigan schools are polar opposites this season, too.  Michigan has had no problem putting up points ranking 8th in the nation averaging 42.4 a game.  They have trouble stopping people on the other side of the ball, though, giving up almost 4 touchdowns a game.  Michigan State on the other hand has a dreadful offense that was outscored by it's own defense through the first couple of games.  The Spartan defense, however, is arguably the best in the game this year.  They are allowing just 215.5 total yards per game and have suffocated opposing rushing attacks to the tune of 2.07 yards per carry.  This will most likely be a low scoring affair and I think the Spartan defense makes the difference.
#18 Oklahoma St at  #15 Texas Tech – Saturday, 11/2 7:00 pm EST,  FOX
Texas Tech was knocked from the ranks of the unbeatens by Oklahoma last Saturday.  The Red Raiders offense was still successful scoring 30 points and putting up 460 yards, but a suspect defense finally caught up with them.  This will be the second straight ranked team from Oklahoma that they'll face after a pretty easy first couple months of the season.  Similarly, Oklahoma State has had an unimpressive list of victories coupled with a bad loss versus West Virginia.  The Cowboys don't have quite the offense that Texas Tech has, but they have a much better defense.  This game should be another fairly high scoring affair in the Big12, which is no surprise.  Thanks to their defense, Oklahoma State is the better overall team here, but I'd expect a close game that could go either way.
Tennessee  at  #9 Missouri – Saturday, 11/2 7:00 pm EST, ESPN
Missouri still controls its own destiny in the SEC East this season.  After a heartbreaking loss against South Carolina last week, the road is a little tougher now as they need to win their final four contests to guarantee them a spot in the SEC Championship game.  That road starts against a Tennessee team coming off another embarrassing beat down to their rival Alabama.   Tennessee has been mediocre to bad in almost every phase of the game this year.  They give up yards through the air and on the ground and have one of the worst pass offenses in college football.  They do run the ball fairly well, however, and will need to control the ball with the ground game to have a chance in this one.  The Tigers have been pretty stout against the run this year, though, so that won't be easy.  Missouri's offense isn't quite as dynamic without starting quarterback James Franklin, but Maty Mauk has still been able to move the ball and put up points for the Tigers, especially against a Tennessee defense that has had problems stopping anyone this year.