Here's a quick synopsis of each of Auburn's 13 games for 2013.  The pattern is clear:  a fantastic rushing offense that can put up points and a defense that keeps any team with an average offense in the game.
Week 1 – Washington State (6-6, 4-5 Pac12) – WIN, 31-24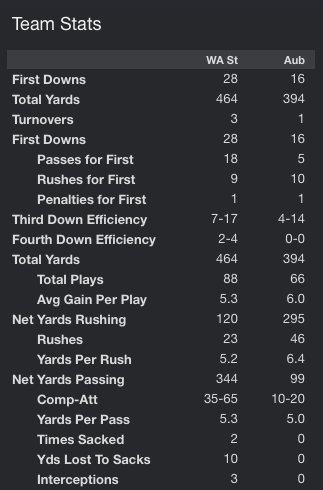 Auburn opened up the season with Washington State coming to the Plains to take on new head coach Gus Malzahn.   The Auburn offense struggled to move the ball consistently, but the Tigers took advantage of some big plays and Washington State turnovers to earn the victory.  Tre Mason had a 100 yard kickoff return for a touchdown and Cody Grant had a 75 yard touchdown run and Auburn had a short 28 yard touchdown drive after an interception.  The Cougars and Tigers traded scores most of the game.  Heading into the 4th quarter, Auburn clung to a 28-24 lead before kicking a field goal to make it 31-24 with 9 minutes remaining.  Washington State had a couple of chances to tie the game late.  First, they drove the ball down to the Auburn 8 before throwing an interception in the end zone on 1st down with just under 5 minutes remaining.  Then, after a Tre Mason fumble, Washington State had the ball at the Auburn 27 before turning it over on downs.
Week 2 – Arkansas State (7-5, 5-2 SunBelt) – WIN, 38-9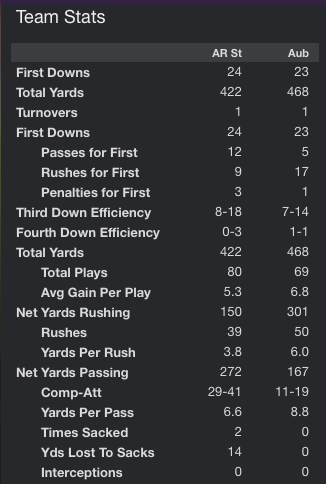 After two successful scoring possessions to open the game, Auburn would again have trouble sustaining anything on offense.  They would gain less than 20 yards on 5 of their last 10 drives of the game, but again were able to capitalize on the big play with a 68 yard TD reception from Nick Marshall to Sammy Coates.  The game was closer than the score indicated, but Arkansas State was done in by two failed fourth down attempts in the first half within field goal range.  To the credit of the Tiger defense, Auburn continually stepped up inside or near the redzone forcing three field goals in addition to the two fourth down stops.
Week 3 – Mississippi State (6-6, 3-5 SEC) – WIN, 24-20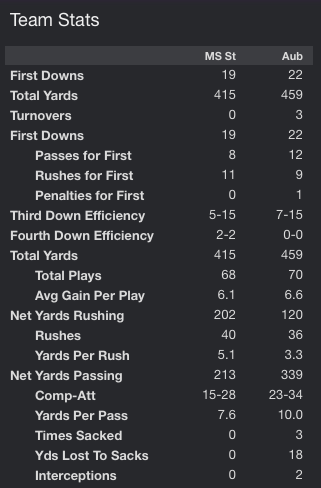 For the 3rd consecutive game, the Auburn defense struggled in giving up 400+ yards. For the 1st time in 2013, however, the potent Auburn run game was shut down.  The Mississippi State defense held Auburn to their lowest output of the season with just 120 yards on the ground on only 3.3 yards per carry.  That commitment to stopping the run, however, opened up the opportunity for Nick Marshall to have his top passing performance of the season, though.  Marshall would finish with 339 yards passing including another big play strike.  It was Quan Bray this time with a 76 yard touchdown reception in the 1st quarter.  The Auburn defense stiffened in the 2nd half forcing 5 straight Miss St punts after allowing an opening 75 yard touchdown drive in the 3rd quarter.  The Tigers, however, would find themselves down 20-17 with 1:56 left in the game.  Marshall would lead an impressive 88 yard drive to win the game with a 11 yard touchdown pass with just 10 seconds remaining.
Week 4 – LSU (9-3, 5-3 SEC) – LOSS, 35-21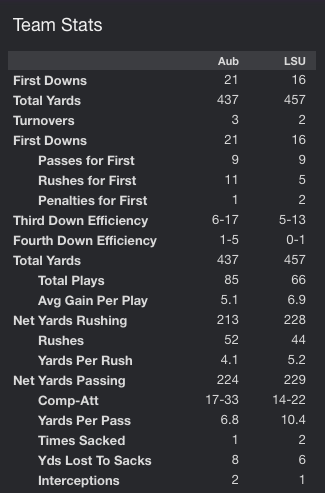 Going against the first Top 50 offense they faced in 2013, Auburn's defense finally caught up with them.  A balanced LSU offense averaged nearly 7 yards per play against Auburn and the Tigers dug themselves a hole offensively with turnovers and punts.  At halftime, Auburn was down 21-0 and had zero drives over 32 yards.  Auburn battled back in the 3rd quarter with a three touchdown drives, including 88 yard and 94 yard touchdown drives.  The defense gave up two more long LSU touchdown drives and Auburn found itself down 35-14 just seconds into the 4th quarter.   While LSU didn't shut down the Auburn rushing attack, it slowed it considerably allowing just 4.1 yards per carry and 213 total yards on the ground.  Nick Marshall, despite throwing for 224 yards, struggled to beat LSU through the air averaging just 6.8 yards per attempt and throwing 2 interceptions while completing just over 50% of his passes.
Week 5 – BYE
Week 6 – Ole Miss (7-5, 3-5 SEC) – WIN, 30-22
Auburn continued an early season trend of giving up lots of yards, but stiffening late to hold the opposition to field goals.  Likewise, Auburn's offense continued it's inconsistent ways with 5 drives under 20 yards, but 3 beautiful 75+ yard touchdown drives.  Auburn took a 20-7 lead into the half, buoyed by a 78 yard interception return for a touchdown by Robenson Therezie.  In the 2nd half, after Auburn had gone ahead 27-9 with a 75 yard touchdown drive, Ole Miss battled back and cut the lead to 27-22 with just over 8 minutes remaining.  The teams would trade turnovers and punts before Auburn took advantage of a short field and converted a 25 yard drive into a field goal to take the 30-22 win.  For the 5th straight game, Auburn allowed 400+ yards on defense and more than 5.2 yards per play.
Week 7 – Western Carolina (2-10, 1-7 Southern) – WIN, 62-3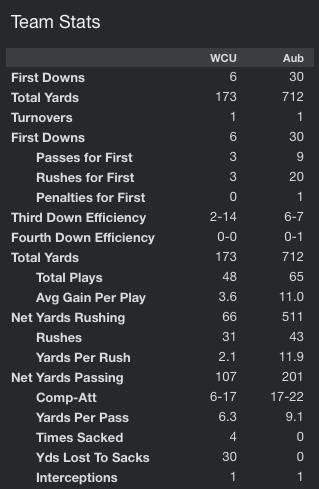 Not much to say about this one.  Western Carolina is a bad football team and Auburn treated them as such.  The stats are impressive and laughable as the Tigers out gained Western Carolina 712 to 173 and averaged nearly 6 times more per play at 11.9 to 2.1 yards per play.  Nick Marshall was held out of this game with a minor knee injury suffered against Ole Miss, but the Auburn offense didn't miss a beat.  Two running backs eclipsed the 100 yard mark and six backs had 40 yards or more on the ground.  Auburn scored on nearly every possession and allowed no drives over 43 yards on defense. A true beatdown in every sense of the word.
Week 8 – Texas A&M (8-4, 4-4 SEC) – WIN, 45-41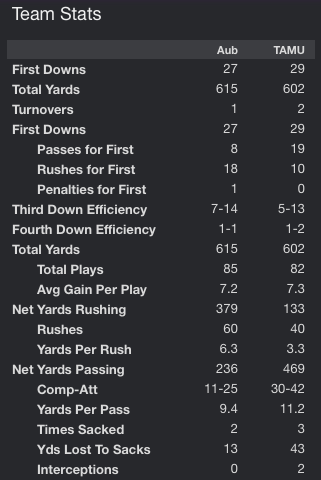 Texas A&M and Auburn combined for 86 points, 1,217 yards, and 56 first downs in this anything-but-defense-SEC-battle.  Bot teams averaged over 7 yards per play and and each team was unstoppable in their particular offensive strength – Texas A&M through the air and Auburn on the ground.  Amazingly, somewhere in the midst of all the offense, the teams combined for seven 3-and-outs showing how it was either all or nothing on this particular Saturday.  The Aggies would take a 10 point lead, the largest of the back and forth game, early in the 4th quarter.  Auburn would respond with 2 straight scoring drives to take a 38-34 lead.  A&M would again take the lead 41-38 with 5 minutes remaining, but Auburn again responded with a 13 play, 75 yard touchdown drive taking the clock down to just 1:15 remaining.  Auburn held on for the win and for the first time in 2013, people started taking the Tigers seriously.  This game would be a foreshadow of much of the remainder of the season for Auburn.  Excellent offense and porous defense that would be in several scoring-fests.
Week 9 – Florida Int'l (6-6, 4-4 C-USA) – WIN, 45-10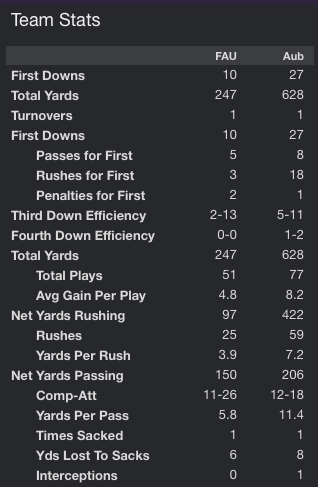 Much like the Western Carolina game, there's little to say about this one.  Auburn ran all over an overmatched opponent for 422 yards.  The Tigers scored on 4 of their first 5 possessions and had a 28-0 lead barely into the 2nd quarter.  Defensively, Auburn would force six 3-and-outs and 8 total punts while recovering 3 Owl fumbles.  Of note was Nick Marshall missing the majority of the game after suffering a minor shoulder injury.  Also of note, this was the last game for Carl Pelini before resigning 4 days later amid reports of illegal drug use.
Week 10 – Arkansas (3-9, 0-8 SEC) – WIN, 35-17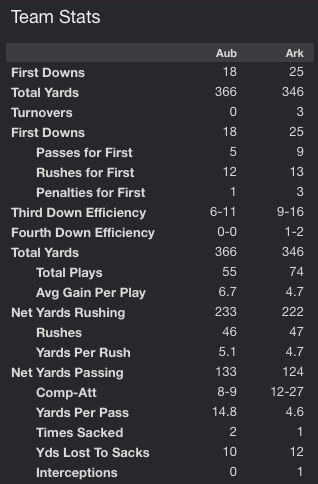 This is a bit of curious game. While the outcome was never really in doubt, Auburn didn't exactly dominate a terrible Arkansas team.  Both on the scoreboard and the stat sheet, Arkansas was a team that was annihilated by Alabama and South Carolina, and beaten soundly by Florida.  As for the game, on back to back 1st half possessions, Auburn took advantage of a short field.  The first a 29 yard drive set up by an Arkansas fumble.  The second a 43 yard drive set up by a bizarre failed onside kick attempt by Arkansas.  In the second half Auburn put the game away with back to back touchdowns, the second of which was of the big play variety.  Nick Marshall found Sammy Coates for an 88 yard touchdown after Arkansas had failed on a 4 down attempt inside the 10 yard line.  The Razorbacks tried to make a game of it pulling within two scores at 28-17 with 14 minutes to go in the game, but Auburn would respond with a game clinching touchdown drive.
Week 11 – Tennessee (5-7, 2-6 SEC) – WIN, 55-23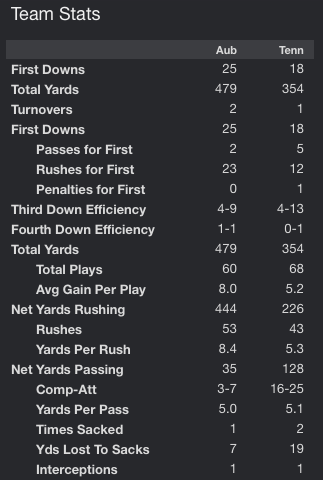 Auburn was again in another shootout early on against Tennessee.  However, while Auburn was scoring touchdowns, Tennessee was settling for field goals in route to a 34-20 halftime lead.  Nick Marshall was the big story for Auburn's offense as he rushed for 214 yards and Tre Mason added another 117 on the ground.  In all, the Tigers rushed for 444 yards on a ridiculous 8.4 yards per carry.  Corey Grant returned the opening 2nd half kickoff 90 yards for a touchdown and the game was over.  Auburn slowed the game down considerably in the 2nd half with a 12 play 6:17 drive in the 3rd quarter and a marathon 14 play 9:35 second drive in the 4th quarter.  In doing so, Auburn limited Tennessee to 11 total plays over the final quarter and a half.  An interesting stat from the game, Tennessee had 5 drives of 50+ yards, but none of those went for 60 yards.  This was a testament to Auburn's defensive ability to stiffen in the redzone.
Week 12 – Georgia (8-4, 5-3 SEC) – WIN, 43-38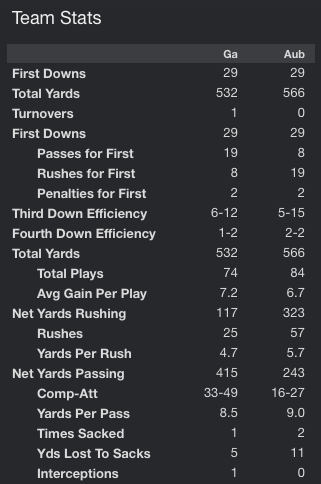 A tale of two halves, Auburn jumped out to a 27-7 lead in the first half before Georgia added a field goal as time expired to make the halftime score 27-10.  The Tigers had moved the ball at will scoring on 5 of their 6 first half possessions with the 6th resulting in a missed field goal.  Meanwhile, the Bulldogs struggled to get much going outside of their two scoring drives.  After the teams traded scores in the 3rd quarter, Georgia erupted for 3 straight scoring drives in the 4th quarter to take a 38-37 lead 1:49 to go in the game.  We all know what happened next.  On 4th and 18 from their own 27 yard line, Nick Marshall threw it as far as he could into the arms of two Georiga defenders who bobbled the ball in the air allowing Ricardo Lewis to race under the ball and score a miracle 73 yard touchdown with 25 seconds remaining.  Auburn gave up 400+ yards passing for the second time and it was the fourth game giving up 340+ yards through the air.
Week 13 – BYE
Week 14 – Alabama (11-1, 7-1 SEC) – WIN, 34-28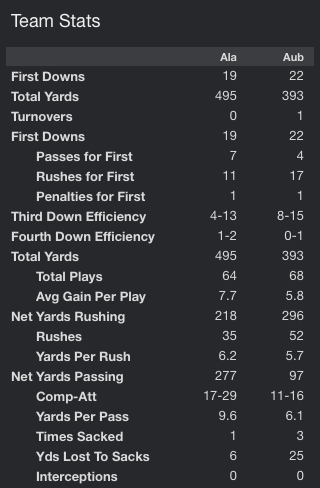 Take a look at the stats on the right.  In a vacuum, most people would have said Alabama must have won that game.  Auburn was bested in nearly every statistical category, including the turnover battle.  The way the game was won?  Third down conversions and four missed field goals by Alabama.  Despite the missed scoring opportunities, Alabama led 28-21 with 2:41 left to play.  Auburn went on a 7 play, 65 yard touchdown drive while converting on two 3rd and 2 plays.  They capped it off with a wild 39 yard touchdown pass from Nick Marshall to Sammie Coates.  On the play, Marshall had tucked to run rolling left, but pulled the ball up and tossed it over the closing Bama defenders just as he was crossing the line of scrimmage to a wide open Coates who easily took it in for the score.  Of course, we all know what happened next.  Bama quickly moved 33 yards and attempted a 57 yard field goal with 1 second remaining on the clock.  The kick was short and Chris Davis returned the kick 109 yards for the most improbable ending to a football game in college football history.
Week 15 – Missouri (11-2, 7-2 SEC) – WIN, 59-42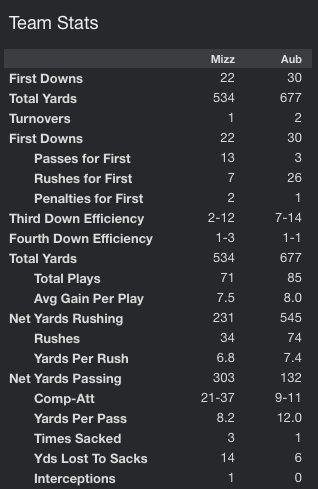 In a game somewhat reminiscent of the Texas A&M game from mid October, Auburn would get in another offensive explosion that would see 101 points, 1,211 yards, 52 first downs, and both teams average over 7.5 yards per play.  Missouri would have four 75+ yard drives on the day and Auburn managed six.  With the game close heading into the 4th quarter at 45-42, Auburn would pull away with two touchdowns in the final quarter.  With the score 52-42, Missouri was backed up to their own 4 yard line after an excellent Auburn punt.  In desperation, Missouri went for it on 4th and 1 from their own 13 yard line.  Auburn would get the stop and a quick 13 yard touchdown from Tre Mason to ice the game.  Mason was an absolute workhorse in the game, carrying the ball 46 times for a record 304 yards averaging 6.6 yards per carry.  Marshall also had another 100 yard rushing game as the Tigers rolled up an astounding 545 yards on the ground at 7.4 yards per carry.  As was the modus operandi for Auburn, though, the defense kept teams in the game allowing 500+ yards for the 3rd time in 2013 and 7.0+ yards per play for the 4th time.