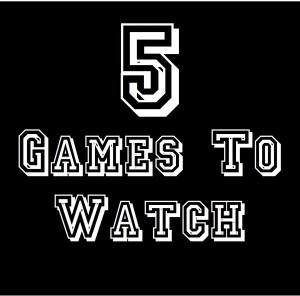 #9 Clemson  at  Louisville – Thursday, 9/17  7:30 pm EST,  ESPN
After a decent showing against Auburn to open the season, Louisville took a surprising loss against Houston and now must face ACC favorite Clemson to avoid starting the season 0-3.  Clemson and Louisville, along with FSU are the projected contenders in the ACC Atlantic and this is a big conference game to kick off the schedule.  Thursday home underdogs always seem to make it interesting.
#15 Auburn  at  #14 LSU – Saturday, 9/19  3:30 pm EST,  CBS
In this day and age it's not often that a team can start out 2-0 yet drop in the rankings from #6 all the way down to #15.  Auburn, however, has accomplished that by looking very unimpressive in wins over Louisville and Jacksonville State.  Auburn needed a last second touchdown and overtime to beat the FCS team and hyped quarterback Jeremy Johnson has really struggled early this season.  Now they must travel to Baton Rouge to take on LSU.  After LSU's opening game was cancelled due to weather the Tigers began their season last week with a decent showing at Mississippi State.  It was a game that they were leading comfortably in the 4th quarter before a late game surge made it interesting. This Top 15 matchup will pit two of the SEC West favorites in an important early season conference showdown.
#16 Georgia Tech  at  #10 Notre Dame – Saturday, 9/19  3:30 pm EST,  NBC
The loss of Notre Dame quarterback Malik Zaire certainly takes away a bit of the luster of this Top 16 matchup, but this is still an interesting game that both teams need to win if they want to make any sort of noise in the college football playoff.  Georgia Tech's offense has hummed right along this season against some inferior competition while Notre Dame looked great against Texas, but average against a Virginia team that was hanging with them even before Zaire went out.  With a win, Georgia Tech could vault close to the Top 10 and set up an interesting year in the ACC.
#11 Ole Miss  at  #2 Alabama  - Saturday, 9/19  9:15 pm EST,  ESPN
Ole Miss used a win over Alabama last year to suddenly vault into the conversation off the top teams in the county and ascend as high as #2 in the country.  While they faulted somewhat down the stretch last year, the Rebels again find themselves knocking on the door of the Top 10.  Though Alabama coach Nick Saban surely wouldn't admit it, the Crimson Tide certainly have some revenge on their mind this week in Bryant Denny Stadium.  We'll find out if the Rebels are for real this year as they go into Tuscaloosa.
#22 BYU  at  #12 UCLA  - Saturday, 9/19  10:30 pm EST,  FS1
BYU has used a couple of miracle finishes to topple Nebraska and a ranked Boise State team and vault into the Top 25.  Now they'll travel to UCLA to take on a Bruin squad that has looked pretty good so far this year and boasts one of the interesting early season story lines in true freshman quarterback Josh Rosen.  The highly touted signal caller has put up good numbers through two games and has shown the poise and confidence not often seen with a true freshman at the position.
Other Game to Watch:
South Carolina at #8 Georgia – Saturday 9/19  6:00 pm EST, ESPN
Nebraska at Miami – Saturday 9/19  3:30 pm EST,  ABC