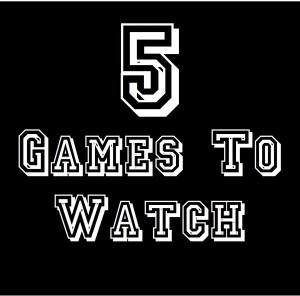 #13 Alabama  at  #6 Georgia – Thursday, 10/3  3:30 pm EST,  CBS
A bit of the intrigue of this one was negated when Alabama lost at home to Ole Miss two weeks ago.  This is still a big one, though.  An Alabama win and they vault right back into the Top 10. A Georgia win and they've cleared their largest hurdle on the schedule. There's a chance that Georgia doesn't face another Top 25 team in the regular season.  Like most teams seemingly this season, we still don't have a great grasp of what these teams are.  Bama doesn't have quite the same dominating defense and their offense has been good on the ground, but very shaky in the air.  Georgia seems to be playing good defense and Nick Chubb is one of the best backs in college football, but they lack something in the pass game as well.
#4 Baylor  vs  Texas Tech – Saturday, 10/3  3:30 pm EST,  ESPN2
Texas Tech racked up over 600 yards last week and should have beaten #3 TCU at home if not for a miracle finish by the Horned Frogs.  Now they face #4 Baylor with a second chance at knocking off a Top 5 team from Texas.  Baylor has been typical Baylor this season.  An explosive offense putting up ridiculous numbers against bad teams and a defense that doesn't inspire much.  This could be a massive score fest and the over/under in Vegas is predicting close to 90 points in the one.
#5 Ole Miss  at  #23 Florida – Saturday, 10/3  7:00 pm EST,  ESPN
Ole Miss is in the Top 5 due to their victory in Tuscaloosa over Alabama two weeks ago.  It was a game that they caught a lot of breaks and didn't exactly look unbeatable.  They weren't overly impressive last week against Vandy and now they travel to Gainesville to face a Florida team with a good enough defense to give them a chance in just about any game, but an offense anemic enough to make it a struggle to win just about any game.  This could be a tough game for Ole Miss and a Florida victory will vault them close to the Top 10.
Arizona State  at  #10 UCLA  – Saturday, 10/3  7:30 pm EST,  FOX
Arizona State was a preseason darling, but have quickly faded with a disappointing, but hardly shocking, beginning to the season.  They get their shot to make a mark on the 2015 season by knocking off UCLA.  The Bruins dominated a team from Arizona last week, but struggled in barely beating BYU the week before.  After a really hot start, all world freshman QB Josh Rosen has shown some growing pains the last two weeks.  I'd expect UCLA to win this one, but the Sun Devils have enough of a shot to make this intriguing.
#7 Notre Dame  at  #11 Clemson  – Saturday, 10/3  8:00 pm EST,  ABC
Notre Dame has survived a scare at Virginia and then turned around and dominated Georgia Tech at home.  Now it's back on the road in the ACC to Death Valley.  The Fighting Irish have played well since losing their starting quarterback, something not many people predicted as it was widely thought that the Notre Dame's season was finished with a back up quarterback leading the way.  The Irish defense stepped up against Georgia Tech and they followed that up with a yawner against UMass.  A trip to Clemson is on a whole different level, though.  Clemson's defense has been better than expected after they lost so much talent and experience from last years's team.  On offense Clemson looked good over two overmatched opponents, but was sluggish against Louisville in their last game.  That was a short week on the road though, so we'll see if that was an aberration.
Other Game to Watch:
Texas at #3 TCU – Saturday 10/3  12:00 pm EST, ABC
#21 West Virginia  at  #14 Oklahoma – Saturday 10/3  12:00 pm EST,  FS1