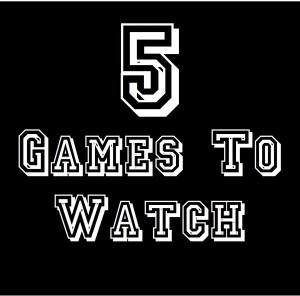 #17 North Carolina  at  Virginia Tech – Saturday, 11/21  12:00 pm EST,  ESPN
Lane Stadium in Blacksburg has long been a tough place for opponents to play.  I'm sure both the crowd and the team will be fired up trying to send long time coach Frank Beamer out with a win in his final home game.  After building Virginia Tech out of nothing to a national player, Beamer has seen the Hokies slide the last few years.  The Hokies are also playing for a bowl in their last two games as they currently sit on 5 wins.  North Carolina has been one of the surprises in the ACC and minus a horrible loss to South Carolina in the season opener in a game that they largely dominated, the Tar Heels could have been sitting in the Top 10.  As it is, they'd like to close out the season with a few more wins and move on to the ACC Championship with big plans.  I think UNC overcomes the emotional team and crowd in Blacksburg and wins because they're simply the better team.
#9 Michigan State  at  #3 Ohio State – Saturday, 11/21  3:30 pm EST,  ABC
Ohio State, after largely having an easy schedule all season, hits the meat of their schedule now with Michigan State, Michigan, and the B1G Championship coming up. Ohio State peaked at the right time last season and the Buckeyes can only hope they do the same this year.  Neither team has been overly impressive this year, struggling in games against vastly inferior opponents, but both have also found ways to win.  Michigan State is most likely out of playoff after their loss to Nebraska, but they can certainly at least get back in the conversation with a victory on Saturday.  I don't really believe too much in the Spartans this year, though, and with the game being in the Horseshoe, I think the Buckeyes win this one rather comfortably.
BC  vs  #4 Notre Dame (Fenway Park) – Saturday, 11/21  7:30 pm EST, NBCSN
Notre Dame continues their "Shamrock Series" with a neutral site game against Boston College in Fenway Park.  This will be the first football game in Fenway in over 50 years and should make for an interesting atmosphere and experience.  More importantly, though, is that Notre Dame is on the cusp of a playoff and just have BC and Stanford in their way.  Boston College is no stranger to upending the national championship hopes of Notre Dame and they have the defense to give the Fighting Irish some troubles.  Fortunately for the Irish, though, Boston College has virtually no offense whatsoever, so while BC may keep this close and low scoring, they have very little shot to pull off the upset.
#10 Baylor  at  #6 Oklahoma State  - Saturday, 11/21  7:30 pm EST,  FOX
The Big XII merry go round continues this week as the Top 4 teams all continue their round robin games to end the season.  Baylor suffered their first loss of the season last week against Oklahoma and now goes up against Oklahoma State, who already ended TCU's undefeated season two weeks ago. Oklahoma State has playoff hopes and control their own destiny as the only remaining undefeated team in the Big XII with Baylor and Oklahoma to close out the season.  As good as Baylor has been the last few years, they have had difficulties when they run into physical teams and while the Cowboys aren't a real physical team compared to the nation, they play much more physical than much of the Big XII.  Oklahoma State can also put up points to match the Baylor offense.  I like Oklahoma State to set up a big showdown in "Bedlam" for the right to playoffs.
#18 TCU  at  #7 Oklahoma – Saturday, 11/21  8:00 pm EST,  ABC
TCU has struggled the last two weeks first getting beat handily by Oklahoma State and then winning a close game against Kansas, one of the worst "Power 4″ teams in the nation.  TCU may be without it's two biggest starts, too, in quarterback Trevor Boykin and wide receiver Josh Dotson.  Oklahoma on the other hand has found a rejuvenated offense led by Baker Mayfield playing extremely well after the debacle against Texas earlier this season.  Oklahoma wins this, possibly in blow out fashion if TCUs stars don't play.