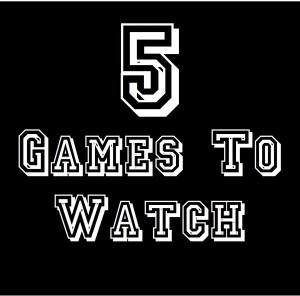 NC State  at  #3 Clemson – Saturday, 10/15  12:00 pm EST,  ABC
Clemson seems to be rolling right now.  After the big win over Louisville, the Tigers followed it up on a short week with a dismantling of Boston College.  While on it's face that's not a big deal, the way they went about their business on a short week after a big, emotional win was impressive.  NC State is coming off an ugly win over Notre Dame played in treacherous conditions during Hurricane Matthew.  The Wolfpack is 4-1 on the season, but mostly against a lackluster schedule.  The Tigers should continue to march on through the schedule and handle NC State.
#1 Alabama  at  #9 Tennessee  – Saturday, 10/15  3:30 pm EST,  CBS
It's the "Third Saturday in October" and that means Alabama and Tennessee. It's one of the great and underrated rivalries in the south, but amazingly I read earlier this week that this is the highest combined ranking of the teams in the history of this series. Considering both of these teams have hovered around the Top 10 off an on since the late 1930s, that little factoid caught me by surprise.  In fact, since 1939 when #5 Tennessee won that ballgame, the winner of this game has been in the Top 10 an unbelievable 41 times!  It'll be 42 after this year as it's a guaranty the winner will be a Top 10 team again.  As for the game to be played on Saturday, I still don't believe in this Tennessee team that has been unimpressive in some stretches and downright lucky in other stretches.  Alabama's defense is for real and I think the ability of Bama freshman quarterback Jalen Hurts to beat you with his arm and legs gives Tennessee problems and Bama wins comfortably.
North Carolina  at  #16 Miami – Saturday, 10/15  3:30 pm EST,  ABC
Both North Carolina and Miami still have hopes of winning the ACC Coastal division.  Both are coming off of conference losses and so this game becomes a must win if they want to stay in the hunt.  The Tar Heels were largely a victim of the weather as their potent passing attack was rendered useless in the driving wind and rain of Hurricane Matthew.  Also without their star back Elijah Hood, Carolina had no answer for a Virginia Tech team that handled the elements better. Miami has to pick itself up off the mat after a heartbreaking loss to Florida State.  In the past, the Canes have been impotent after dropping the rivalry game to the Noles.  It'll be interesting to see how they respond under new leadership. The offenses should have success in this one and I expect a Carolina win in a high scoring, close game.
Stanford  at  Notre Dame – Saturday, 10/15  7:30 pm EST, NBC
This has been a nice rivalry game over the past several years since Stanford has ascended to a higher place among college football's elite.  Both programs have been ranked the past five meetings and at least one team has been ranked since 2010. However, this game is between two teams reeling and searching for answers.  Stanford has been outscored 86-22 the last two weeks by the two teams that make up the Apple Cup (that's Washington and Washington State in case you're not up to speed on northwest football).  It's certainly a lowpoint in the successful career of David Shaw and it will interesting to see how the team responds traveling to South Bend.  The Irish can't stop anyone right now and have dropped games against Duke and NC State over the last three contests.
#2 Ohio State  at  #8 Wisconsin – Saturday, 10/15  8:00 pm EST, ABC
Another big game for the Big Ten in what has been an excellent season for the oft criticized league.  Ohio State has been impressive this year and certainly is among the Top 2-3 teams this year. The competition steps up quite a bit this week, though, against Wisconsin.  The Badgers have two victories over teams that were in the Top 10 at the time of the game and played Michigan extremely tough in a close 14-7 loss.  Wisconsin is doing it with great defense, but they're going up against one of the top offenses in the nation.  The Badgers are going to need a big performance from that defense because the offense has struggled this year and Ohio State has an equally impressive defense.  I see the Buckeyes winning this one, maybe big.