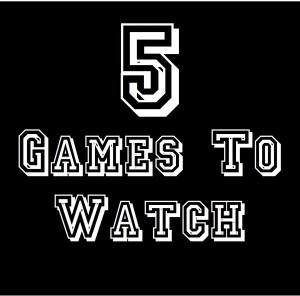 NC State  at  #7 Louisville – Saturday, 10/22  12:00 pm EST,  ABC
NC State has quietly had a nice season after an early disappointment against East Carolina. By all rights, they should have beaten Clemson on the road last week and they'll get another shot at the road upset this week as they travel to Louisville.  The Wolfpack has been led by a pretty stingy defense with quality, athletic defensive line.  Louisville still has hopes of an ACC Championship and a spot in the College Football Playoff and while they'll need help, they will need to win out.  The Cardinals and they're dynamic offense wasn't running on all cylinders in their close victory over Duke in the last outing.  I think they get it rolling again and win comfortably over an NC State team that won't sneak up on them after the close call with Clemson.
#6 Texas A&M  at  #1 Alabama  – Saturday, 10/22  3:30 pm EST,  CBS
It was expected before the season the game of the year in the SEC West would be the LSU and Alabama game.  While that one could still be a battle on November 5th, this matchup looks to be that game for the West.  A&M has seen great improvement from their defense and that's been the difference between this season and prior years.  Bama is just steamrolling right now and looked very impressive in all phases against Tennessee last week.  As is typical, the Bama defense is great, but they've had unexpected success offensively with freshman quarterback Jalen Hurts.  Hurts has given Bama the threat of a running quarterback and makes the Tide offense difficult to defend.  I expect this to be a close game for most of the contest, but Bama to pull away in the 2nd half.
#17 Arkansas  at  #21 Auburn – Saturday, 10/22  6:00 pm EST,  ESPN
Auburn has worked its way back into the Top 25 with a unexpected nice start to the season. Gus Malzahn has cooled the hot seat he was on to start the year with a 4-2 record.  The two loses was a close loss to #4 Clemson and a respectable loss to #6 Texas A&M.  That's largely been due to an excellent defense that keeps the Tigers in games and has allowed the offense to go through the season.  After a near disastrous upset to open the year against La Tech, the Razorbacks have combined losses against #6 Texas A&M and #1 Alabama with wins over TCU and Ole Miss to keep them in the Top 25.  I think Auburn's defense keeps this low scoring and the Auburn offense does enough to win.
#2 Ohio State  at  Penn State – Saturday, 10/22  8:00 pm EST, ABC
Ohio State looked vulnerable last week against Wisconsin in a game that the Buckeyes had to come from behind to squeak out the victory.  Penn State is no Wisconsin, though.  The Nittany Lions aren't as awful as they have been in recent years, but they're still trying to claw their way back into relevance.  After seeing what Michigan did to Penn State earlier this year in a 49-10 beatdown and after Ohio State's struggle last week, I think the Buckeyes take it to Penn State in Happy Valley.
#23 Ole Miss  at  #25 LSU – Saturday, 10/22  9:00 pm EST, ESPN
Ed Orgeron is one heck of an interim head coach.  He's had success at USC recently in the role and is off to a good start in his interim position with LSU.  After an anemic offense led to a 2-2 start and the dismissal of Les Miles, the Tigers have put up 42 and 45 points in their last two games, admittedly against less than stellar competition.  That kind of offensive output has been fairly unattainable for LSU against anyone as of late, so it's a welcome change for Tiger fans. Ole Miss is hanging around the Top 25 despite a .500 record.  The offense is good enough to hang with and beat any team in the nation, but the defense is iffy enough to lose to a lot of team, too, as evident by their 34, 43, and 30 point outputs in their three losses.  Look for the Tigers to continue their hot streak under Orgeron and get the win in Death Valley.