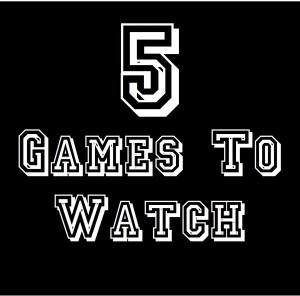 #4 Baylor  at  West Virginia – Saturday, 10/18  12:00 pm EST,  FS1
Baylor has to travel to Morgantown to face West Virginia and the Fighting Tricketts.  The Mountaineers have the offense to possibly keep this one close, but Baylor should have too much offense and a better defense than in years passed.
#14 Kansas State  at  #11 Oklahoma – Saturday, 10/18  12:00 pm EST,  ESPN
If either of these one loss teams has any national championship aspirations remaining, they can't lose this one.  Kansas State had Auburn on the ropes and outplayed the Tigers the majority of the game.  The Sooners at home are tough, though.
#21 Texas A&M  at  #7 Alabama – Saturday, 10/18  3:30 pm EST,  CBS
Alabama still is very much in the College Playoff conversation.  They can't lose another game, though, and Texas A&M would love nothing more than to upset the Tide.  If they've got a shot, it's through the air as the Aggies have a good passing attack and the Crimson Tide's achilles heel right now is a suspect secondary.
#24 Clemson  at  Boston College – Saturday, 10/18  3:30 pm EST,  ESPNU
Clemson has to travel to Chestnut Hill without stud freshman quarterback Deshaun Watson.  Watson will miss several weeks with a broken hand and the Clemson offense just simply isn't the same without him.  They may have to lean on their defense in this one.
#15 Oklahoma State  at  #12 TCU  - Saturday, 10/18  4:00 pm EST,  FS1
TCU is a late collapse away from possibly being a Top 5 team.  Combined, these two teams have one loss to #2 and one loss to #4.  Obviously, for Florida State fans, a Oklahoma State victory would continue to boost the Noles resume.
Others to Watch
Tennessee  at  #3 Ole Miss – Saturday, 10/18  7:00 pm EST,   ESPN
Washington  vs  #9 Oregon – 10/18  8:00 pm EST,  FS1
#23 Stanford  at  #17 Arizona State – 10/18  10:30 pm EST,   ESPN