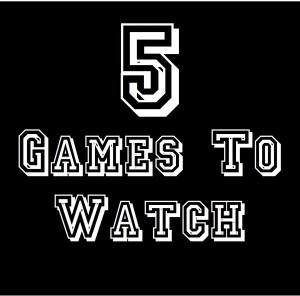 #10 Notre Dame  at  #14 Arizona State – Saturday, 11/8  3:30 pm EST,  ABC
The Irish are clinging to playoff hopes at 10th and they need a big victory over the Sun Devils to keep hope alive.  At least one team in front of them is guaranteed to lose games this weekend so a victory can propel them right back into the thick of things.
#9 Kansas State  at  #7 TCU – Saturday, 11/8  7:30 pm EST,  FOX
The Big12 has two teams still hoping to have a say in the first college football playoff.  Kansas State is a few plays from being undefeated and in the Top 5.  They largely outplayed Auburn earlier this season on a Thursday night, but came up short due to redzone deficiencies.  TCU already has a couple of nice wins under their belt, but a 3 point loss to Baylor in a defenseless shoot out has both teams in must win mode.
#6 Alabama  at  #19 LSU – Saturday, 11/8  8:00 pm EST,  CBS
This isn't your older brother's LSU team, but there is still enough young Tiger talent and voodoo in a Baton Rouge Saturday night to make this an intriguing game.  With one loss already, Bama has to win out make their way to the first college football playoff.  LSU was manhandled by Auburn and Mississippi State (don't let the final against MSU deceive you) and struggled to win against Florida, but they also had an upset victory over Ole Miss, so keep an eye on this one.
#16 Ohio State  at  #8 Michigan State – Saturday, 11/8  8:00 pm EST,  ABC
Michigan State has only one loss and it's to #5 Oregon.  A victory over Ohio State clears their last big hurdle and pretty much smooth sailing after that.  With future carnage in front of them expected in the coming weeks, you can almost pencil in the Spartans to the playoffs with a victory, barring a major upset.  Has Ohio State righted the ship after an early season embarrassing loss at home to a bad Virginia Tech team or have they just benefited by playing horrible teams the last six games?  I guess we'll find out Saturday night.
#5 Oregon  at  #17 Utah  – Saturday, 11/8  10:00 pm EST,  ESPN
Like Michigan State, this is the last big test for Oregon this season.  The Ducks have largely gotten back on track after struggling in the middle of the year, none more than the Thursday night loss to Arizona.  Oregon suffered a multitude of injuries on the offensive line at the time, but are back healthy and the offense is back humming along.
Others to Watch
#13 Baylor  at  #18 Oklahoma – Saturday, 11/8  12:00 pm EST,   FS1
Texas A&M  at  #3 Auburn – 11/8  3:30 pm EST,  CBS